Tech camp offered for Native students
Camp aims to build skills, self-worth and hope for a bright future through technology training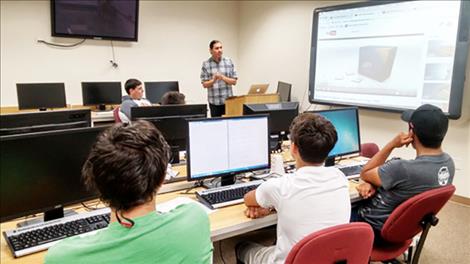 News from Salish Kootenai College Tech 4 Good Program
PABLO – In a community where hope for a bright future sometimes seems in the far reaches, the Flathead Tech4Good initiative aims to offer opportunities that build technological skills and inspiration for future opportunities. To empower area youth and introduce students to experts in the technology industry, the community outreach and professional development program will offer a Native Tech Camp, June 11 – 15, on the Salish Kootenai College campus in Pablo.
Native professionals and IT experts from Intel, the Washington Companies, Watershed Education Network and Tribal entities will lead the camp's sessions that cover nearly every facet of technology, from game design to cyber security. The free camp is open to Native high school students (entering freshmen through graduating seniors) and does not require previous technology training.
"Our kids are born with natural potential, but some lose hope for the future as evidenced by our reservation's high suicide rate. You cannot be what you cannot see, so I thought we should help them build interest and skills in an area where the path to success has been clearly demonstrated," said Native Tech Camp founder Velda Shelby, a member and a former employee of the Confederated Salish Kootenai Tribes and an active community organizer. "And of course, technology can be that gateway."
Camp is offered at no cost with breakfast and lunch provided daily, and transportation available for Flathead Reservation communities.
Shelby partnered with Flathead Tech4Good founder, Jonathon Richter, and formed a committee to start the first Native Tech Camp in 2017. She enlisted her nephew, Cory Cornelius, a research scientist with Intel Labs in Portland, Oregon, and an enrolled member of the CSKT, to help lead the camp. She has brought on sponsors including Mary Byron, a retired partner in the Technology Division at Goldman Sachs and an advocate for diversity in the industry, and Missoula-based Washington Companies.
This June, Shelby and her committee aim to fill the SKC classrooms of the Adeline Mathias Technology Building (named in honor of Shelby's grandmother), offering sessions that will include game design, design thinking, media design and editing, data analytics, coding, an introduction to new technologies and cyber security. Camp facilitators will also lead a discussion about community challenges, and Tribal tech experts will talk with campers about educational and career opportunities in the industry. The campers will also get outside for a field trip with Deb Fassnacht, executive director of the Watershed Education Network.
"Hope is not lost in our community. This camp is designed to expand horizons in tech careers and instill hope for all the students who attend," Shelby added. "We are investing in our most precious asset: the youth of our community. And we are very grateful to the role models who will share their experiences and insights. Through technology, these pioneers have found a future where they can honor their heritage and create a future that is bright and adapts to our changing world."
Registration is currently open at tech4good.skc.edu. Families interested in learning more about the camp can also contact Dayton Smith at SKC at 406-275-4741, tech4good@skc.edu or Jodi Hunter at the CSKT Education Department at 406-675-2700, ext. 1223, Jodi.Hunter-Ivins@cskt.org.
About Flathead Tech4Good — Flathead Tech4Good is a community outreach and professional development initiative at Salish Kootenai College in Pablo, Montana. Its vision is to build a community where each student is empowered to pursue his or her educational and professional goals. tech4good.skc.edu.