Phone records lead to charges in Sanders County homicide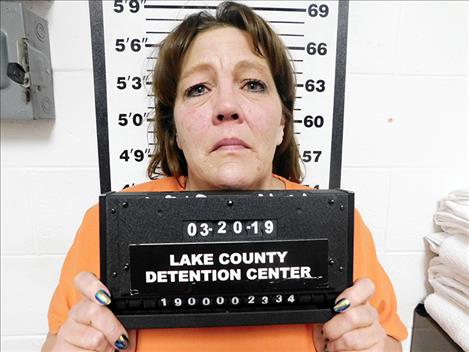 POLSON – A woman charged with the deliberate homicide of Matthew LaFriniere – in Thompson Falls almost a year ago – was arrested on the morning of Wednesday, March 20, in Polson.
Lake County Sheriff's Office deputies arrested Danielle Jeanette Wood after receiving the arrest warrant, signed by 20th Judicial District Court Judge Deborah Kim Christopher.
Wood has been living and working in Lake County and was most recently employed at the Lake County Leader. She is being held in the Lake County jail on bail set at $1 million.
Sanders County Sheriff Tom Rummel requested assistance from the Montana Department of Justice to investigate LaFriniere's death. He was killed on May 2, 2018.
Rummel said assistance was requested with the investigation to avoid a conflict of interest. "Matthew LaFriniere worked for us for seven years and was well liked." He was a jailer at the Sanders County Sheriff's Office but hadn't worked there for about two years prior to his death.
The Lake County Sheriff's Office made the arrest and is holding Wood to further avoid a conflict of interest. Wood will be taken to Sanders County for an arraignment and then returned to Lake County.
Rummel said the Department of Justice took almost a year to finish the investigation to ensure that all the evidence was collected and well researched. He said the phone records used in the case took time to gather. "They did a detailed analysis, and thankfully they did the investigation," Rummel said. He added that the Department of Justice has access to the experts and funding needed to do a technical investigation on phone records.
According to Sanders County court documents, LaFriniere didn't show up to work at Ace Hardware in Thompson Falls on the morning of May 3, 2018, and he wasn't answering his phone. His coworkers called Thompson Falls Police to conduct a welfare check.
Thompson Falls City police officer Bob Thornhill went to LaFriniere's home and found his truck in the driveway. He wasn't able to find the man. He called Wood – who is LaFriniere's ex-girlfriend – to see if she knew where he was. The two have a child together and had been in a custody dispute. LaFriniere had primary custody of the child "due in part to Wood's severe alcoholism," according to records. On May 2, Wood had picked up the child for a scheduled visit. She was supposed to return the child that evening.
During the investigation, law enforcement documented that Wood said she received "strange" text messages from LaFriniere the night she was to return the child saying he was in Trout Creek and that she should take their child. The texts were "strange" because they did not come from LaFriniere's phone number.
According to charging documents, Wood hosted a Pampered Chef party, which is a gathering to purchase kitchen supplies, at her residence between 6-9 p.m. on May 2, 2018. Witnesses said Wood left the party for about an hour at around 7 p.m. and returned around 8 p.m.
Agents worked with the Verizon phone company to obtain records and information from a Tracfone phone number that sent the "strange" texts. The agents discovered that the Tracfone and Wood's phone were traveling together towards LaFriniere's residence and then away from his residence between 7 and 8 p.m. on May 2.
The Tracfone was activated on April 19, 2018, and the first text was sent to Wood's phone.
At 7:26 p.m., Sanders County dispatch received a call from the Tracfone. The caller was reported to be an anonymous female, later alleged to be Wood. She said she heard a "boom" and observed someone driving erratically west of Thompson Falls. The caller said she didn't wish to get involved and hung up the phone.
At about the same time, LaFriniere's stepmother was on her way to work. She drove past her son's home and observed Wood's black SUV at the residence. She also observed Wood "running back and forth between her vehicle and the residence." A log sheet confirmed that the stepmother had been to work on that day and arrival time was consistent.
On May 3, LaFriniere's co-workers went looking for him. One of the co-workers went to his home and looked around outside. She noticed a pair of shoes sticking out from underneath a piece of plywood and removed the plywood. It was LaFriniere. She checked for a pulse and found nothing. At 1:55 p.m., she called 911.
An autopsy by the Montana State Crime Lab revealed that LaFriniere had three to four gunshot wounds in his chest, back and right hand. The bullets recovered from the scene were consistent with a .38 caliber weapon. A metal detector was used to find additional bullets at the scene.
On May 8, Wood's residence was searched. Photos were taken of a mirror containing writing saying, "You are worth it! She will be home for good soon?" A receipt was found in her purse for a .38 special caliber revolver purchased with cash for $329.99, along with Centerfire Ammo, from Ronan Sports and Western on March 15, 2018. A report by the Montana State Crime lab indicated that the fired bullet obtained from LaFriniere's hand "is consistent with the .38 caliber firearm purchased by Wood."
The investigation also found witnesses describing confrontations between the suspect and the victim. Montana Highway patrolman Cale Lang was living near LaFriniere and indicated that he observed eight to ten physical confrontations. He said half of the confrontations became physical and that Wood was the aggressor. He recalled Wood saying, "I'm going to kill him."
Another witness who was in a relationship with Wood said he would be surprised if she had a gun because she "doesn't like to be around guns." He later changed his statement and said Wood told him that she purchased a gun but "threw it away" because she was "afraid of it" four to five weeks prior to the homicide.
Wood's neighbor reported that about three years ago he had been in a relationship with her when she asked if he would be "willing to take out Matthew." The man stated that he took this to mean that Wood was propositioning him to kill LaFriniere. The neighbor said he told Wood that people "would go to prison" for committing such and act and she said, "I know."
Deliberate homicide, a felony, is an offense punishable by life imprisonment or for a term of not less than 10 years or more than 100 years, according to charging documents.
Alain Burrese was La- Friniere's long-time friend. They graduated high school together in 1985 and both ended up serving in the military. "Matt was one of those guys who was liked by everyone," Burrese said. He said the entire situation is "terrible" and that his friend's child has lost both a father and a mother.