Residential drug search warrant leads to arrests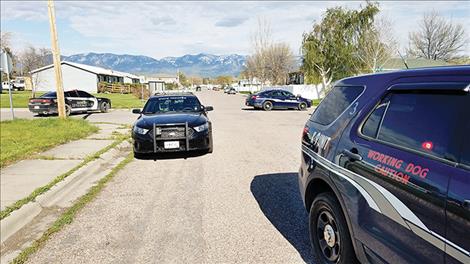 News from Polson Police Sergeant George Simpson
POLSON – Last month your Polson Police Department began a drug investigation involving individuals on the west side of town.
On May 10, at approximately 5:45 p.m., a team of law enforcement officers executed a search warrant at 1002 5th St. West, #1. Several items were seized as a result, including methamphetamine, prescription pills and hash oil. Several items of drug paraphernalia were seized, such as digital scales and plastic baggies used for packaging along with other devices used to prepare, package and ingest dangerous drugs.
Two individuals were arrested as a result of the raid. Jeramie McDanal was arrested for distribution of dangerous drugs, possession of dangerous drugs, endangering the welfare of children and possession of drug paraphernalia. Dezra Kenmille was arrested for possession of dangerous drugs and possession of drug paraphernalia.
No children were inside the residence when the search warrant was executed. Nobody was injured during the execution of the search warrants. Your Polson Police Department would like to thank the following agencies that assisted with this investigation: Flathead Tribal Police, Montana Highway Patrol and the Ronan Police Department.
If you have information you would like to share with us, please call the non-emergency number at 406-883-7301 or private message us on Facebook or Instagram. If you're selling drugs in our community, we are going to hunt you down with every available resource. If you're addicted to drugs, then reach out to us and we will use every resource available to get you the help you need to begin your journey to a positive and successful lifestyle.