Commissioners consider putting new jail on ballot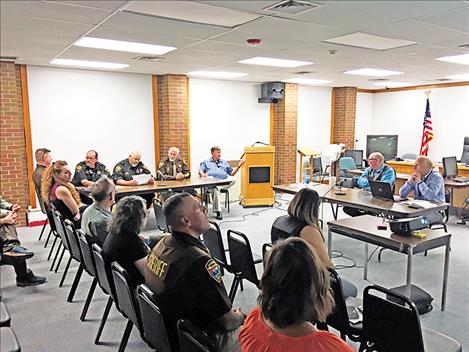 POLSON – Lake County Commissioners are considering the development of a resolution to allow voters to decide whether a new jail should be built.
"We have gotten to a point where we have to do something, in my opinion," said Commissioner Bill Barron. "We have reached a point where I don't feel we have any other option but to put forth a mill levy."
Commissioners held a public hearing and comment session on Thursday afternoon pertaining to the issue. Resolution of Intention 19-20 is a measure that specifically calls for a mill levy to be assessed on all county properties to address the deficiencies in correctional services offered and lack of detention space at the county jail.
The Lake County Sheriff's Office, which operates the county jail, has expressed concerns about the lack of operational space and overcrowded conditions at the facility. A National Institute of Corrections assessment conducted on the jail back in January 2018 reiterated what most county law enforcement officials and citizens already knew: the jail is worn out, overcrowded, inadequate and dangerous to both staff and inmates.
According to an 82-page assessment, the jail has numerous significant building-related issues that impact staffing and operations, safety and security, manageability, the welfare of staff and inmates and the potential for rehabilitation. A new facility would incorporate a safer booking and release center as well as more beds, new medical and behavioral units and an additional courtroom.
In a yet-to-be scheduled meeting, the county commissioners will address the final details of the potential new facility and to decide whether to pursue a 2019 ballot proposal to ask voters to fund a new jail and courthouse.