Grizzly bear advisory council struggles with 'herculean' challenge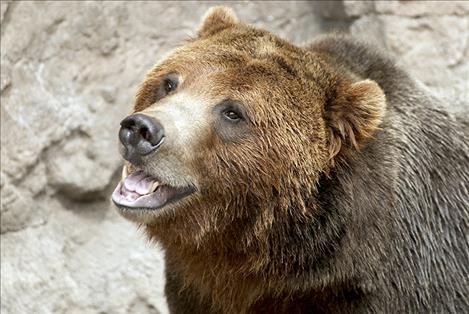 MONTANA — Chad Bauer, a member of Gov. Steve Bullock's Grizzly Bear Citizen Advisory Council, expressed a sense of urgency and unease on the second morning of the council's Dec. 4-5 meeting in Missoula.
Bauer and Bullock sat across from each other in a crowded conference room on the University of Montana campus. Bullock had recently announced the end of his presidential campaign, and Bauer, who works as a municipal market manager for Missoula waste hauler Republic Services, was three months into his role on the council. Bullock has given the council the task of delivering recommendations on the future of state grizzly bear management by the end of next summer.
"We should probably be eight or nine meetings into this, and we're in our third meeting on a council that sunsets in August [2020]," Bauer told Bullock. "We're in a difficult situation because you're asking us to give you recommendations on how to manage bears in the state of Montana in basically the next nine months."
The statement was a thin but pointed slice of a two-day meeting packed with presentations on grizzly bear conflict reduction, state and nonprofit education efforts, and legal constraints defined by the Endangered Species Act. But Bauer's candor seemed to lift the veil on a key challenge facing the council. Kristen Kipp, a council member from the Blackfeet Indian Reservation, echoed Bauer moments later, expressing her concern about completing concrete recommendations in time. Bullock acknowledged that the council's job is a "herculean task" with a "damn tight timeline."
Bullock created the council with an executive order last July to secure citizen input on a statewide direction for grizzly management. That input, Bullock told Montana Free Press, has to include solutions to problems the state is likely to face as bear populations continue to grow and expand their range.
Though some conservationists have contested the statistics, biologists estimate there are about 1,000 grizzly bears in the Northern Continental Divide Ecosystem, and interagency research conducted between 2004 and 2014 put the population's average growth rate at 2.3 percent per year.
The future of grizzlies in Montana is a minefield of unknowns, with some elected officials pushing to delist bears in the NCDE even as a delisting rule for Greater Yellowstone grizzlies languishes in the courts. Grizzlies are increasingly occupying private property, whether on the plains or in interstices between recovery zones, raising questions about the readiness of landowners, agency managers, and the state of Montana itself. Asked by MTFP about how much the council should weigh the prospect of delisting in the Greater Yellowstone and Northern Continental Divide ecosystems, Bullock said the council's recommendations should be useful regardless of the bears' legal status.
"I don't think it should be that big a factor, to be honest, in as much as that we're still going to have to deal with the conflicts and the challenges along the way," he told MTFP. "The work that they do now, I think, will better prepare for when this really is an animal that we as a state hold in trust, that it's completely our responsibility."
The road to reaching those recommendations is a rocky one, given the wide variety of attitudes about grizzlies throughout the state. By design, the council's 18 members hail from diverse pockets of western and central Montana, and their professional backgrounds include farming, ranching, the timber industry, and conservation. Throughout the course of the council's meetings, experts have endeavored to provide council members with crash courses in grizzly biology, territorial distribution, legal status, and ecosystem connectivity.
On Dec. 4, the first day of this week's two-day meeting in Missoula, five grizzly bear managers from Montana Fish, Wildlife and Parks were joined by bear managers from the Blackfeet Nation and the Confederated Salish and Kootenai Tribes to share their protocols for dealing with bear-human conflicts. Each stressed the importance of building social tolerance for bears by educating landowners and fostering trust between bear managers and local communities — a point reiterated during the following day's panels on conflict-prevention efforts by nonprofits, including the Blackfoot Challenge, and on education and outreach work by the interagency Bear Education Working Group.
"If bears really wanted to do people harm, we wouldn't have bears," Glacier National Park bear biologist John Waller told the council. "You don't have to be afraid of bears. Just respect them, and that will guide you to do the right thing with bears."
But for council members Kipp and Trina Jo Bradley, ranchers near Dupuyer, social tolerance for grizzlies remains a distant prospect. The two repeatedly expressed their shared belief that residents along the Rocky Mountain Front have become frustrated with NCDE grizzlies that are expanding their range onto the plains. Bradley was adamant about both human safety concerns and the financial risk faced by livestock producers. According to the Montana Livestock Loss Board's latest figures, grizzlies have killed 25 cattle and four sheep in Glacier, Pondera, and Teton counties in 2019.
"What we need is for these problem bears to go away," Bradley said during Wednesday's meeting. "There has got to be lethal removal of some of these bears … Some bears just have to die in order to better the species and the tolerance. If a grizzly bear keeps killing chickens or keeps killing cows or won't get out of my yard or follows my daughter, it has to be removed."
Grizzly mortality in the NCDE hit a record high of 51 in 2018, the same year the Greater Yellowstone ecosystem hit its record of 69. The leading cause of death among grizzlies across ecosystems is lethal removal by state wildlife agencies.
Ideological differences and focus on details occasionally distracted the council from its core mission. Late in the day on Dec. 4, FWP bear biologist Cecily Costello reminded the council of its broad goal of providing guidance for statewide bear management that can generate public buy-in. For example, she said, how should state managers handle problem bears that are captured between two ecosystems? And can the council even agree that connectivity between ecosystems should be among the state's goals?
"This is very much a value debate, and I don't think we can avoid the fact that it's a value debate," Costello said. "Maybe you don't have to hash out that debate today, but that part of it needs to be in your head now, and you need to know where you stand on a statewide vision for bears."
For meeting attendee Derek Goldman, Northern Rockies field representative for the Endangered Species Coalition, the council's occasional slow pace and disjunctions are understandable. Of the council's three meetings to date, this week's gathering in Missoula was the first that Goldman attended. He noted that grizzly bears are biologically, socially, and legally complex, and making informed recommendations about them takes time.
"This council is probably still trying to get their feet under them," Goldman told MTFP. "I've been working on grizzly bear issues for 14 years. So while a lot of the council has some background in grizzly bears, it's probably a lot to digest. It's a big issue."
Caroline Byrd, a council member from Bozeman and the executive director of the Greater Yellowstone Coalition, acknowledged to MTFP that the council does have a habit of "chasing rabbits." That hasn't sapped her optimism. Byrd repeatedly spoke up during the council's Missoula meeting in an effort to better frame its role, saying that with increasing numbers of both people and bears living in Montana, it's up to the council to determine what each species needs in order to coexist. Council members are at a point now, she told MTFP, where they can have open and honest discussions among themselves and can move forward toward recommendations.
The biggest challenge, she said, is making sure those recommendations can survive any of the social, legal, and political changes that are bound to impact grizzlies in Montana's future.
"Whatever we do," Byrd said, "it has to endure."
Freelance writer Alex Sakariassen has spent the past decade writing long-form narrative stories that spotlight the people, the politics and the wilds of Montana. A North Dakota native, Sakariassen splits his time between Missoula's ski slopes and the quiet trout waters of the Rocky Mountain Front.