sports shorts for Oct. 23, 2109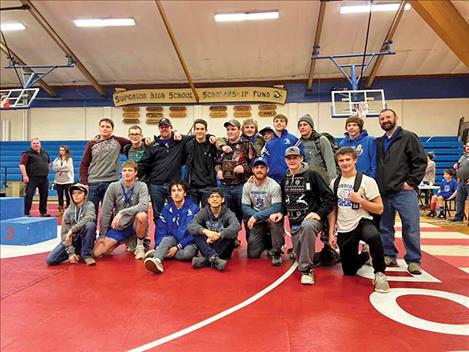 Wrestling
Mining City Duals
Both the Polson Pirates and Ronan Chiefs wrestling teams traveled to Butte this past weekend for the 24-team Jim Street Classic/Mining City Duals held at the Butte Civic Center.
Competing in pool action on Friday, the Pirates went 0-3, falling 60-9 to Huntley Project, 72-6 to Great Falls and 54-18 to the co-op team of Missoula Big Sky/Loyola. The Chiefs also struggled in pool play, falling to Belgrade 53-15; Billings Skyview 57-12; and 76-0 to Flathead High School.
In bracket action Saturday, Polson was defeated by Missoula Hellgate 42-36 and Fergus 54-12.
The Chiefs started the day by beating Butte High School JV 39-28 but fell to the co-op squad from Dillon/Twin Bridges/Sheridan, 36-28.
Bob Kinney Classic
For the second time in eight days, Mission/Charlo's Isaiah Allik won an individual title as the senior rolled through the 170-pound weight class to win the title at the Bob Kinney Classic at Superior High School on Saturday.
Allik defeated Camren Ross of Whitefish by fall for the win and helped Mission/Charlo to a second-place team finish in the 12-team tournament with 171 points.
In the championship brackets, Mission/Charlo had two runners ups and five third-place finishers.
For Mission/Charlo, Isaac DuMontier (145) and Darwin Adams (152) finished second. Canyon Sargent (132), Robert Dempsey (138), Ethan Diaz (160), Troy Matt (182) and Miles Anderson (205) all placed third.
The Arlee Warriors had two wrestlers finish in the top four. Colt Crawford (145) placed third and Demetrix Austin (160) finished fourth.
Boys Basketball
Charlo Vikings
Saturday's season home opener for Charlo Vikings was spoiled by the visiting Clark Fork Mountain Cats 54-40. Phil Marquez led the Vikings with a team high 12 points, half of them were three pointers.
Ronan Chiefs
The Ronan Chiefs opened their 2019-2020 basketball season by hosting the Hamilton Broncs on Thursday evening. Junior Leonard Burke scored a game-high 23 points and Girma Detwiler scored 16 points for the Chiefs as the Broncs slipped past Ronan 57-52.
Polson Pirates
On Saturday, the Polson Pirates started their 2019-2020 Northwestern A boys basketball season on the road in Browning. The Browning Indians narrowly came away with the home win as they slipped by the Pirates 66-60.
Girls Basketball
Ronan Maidens
In Hamilton, Jaylea Lunceford led the Ronan Maidens with 10 points as the Maidens fell 43-56 to the Hamilton Lady Broncs on Thursday evening.
For the Maidens, both Kieneau DeRoche and Jaleigh Gatch chipped in with seven points.
Polson Lady Pirates
The Polson Lady Pirates started their season on the road Saturday with a 71-9 loss to the Browning Lady Indians.