Spring sports postponed amid pandemic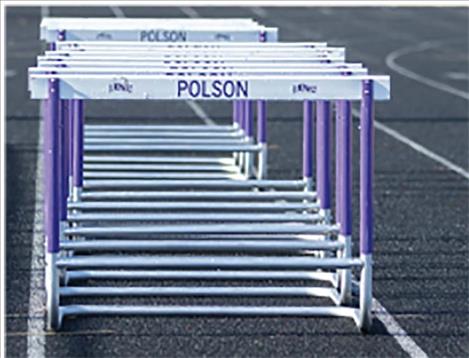 POLSON – Empty bleachers and an ominous silence filled Mission Valley tracks, tennis courts and softball parks during what would have been the official start to the 2020 prep spring sport season.
The Montana High School Association announced the health-related hiatus on Monday, March 16, that all spring activities will be indefinitely suspended until further notice.
"I'm extremely disappointed in the suspension," said Charlo's junior Carlee Fryberger who won the State Class C title in the girls 100-meter dash last spring. "I understand this is in our best interest to stay healthy, but I can't help but be disappointed. Track season is already a short season, and now if there is a season it will be even shorter."
Mission's multi-sport senior Azia-Rain Umphrey shares Fryberger's sentiments. "I understand that it's a necessary safety precaution for everyone, but I think it's sad that spring sports have been postponed and possibly canceled," said Umphrey. She pledged her commitment to play softball for the Argos at the University of Providence in Great Falls next fall. "It's heartbreaking that I might not be able to play another game with my MAC softball teammates."
Fresh off of a state Class B/C championship in wrestling, Montana Tech football recruit and Charlo senior Isaiah Allik said, "I understand the concerns of COVID-19, but it really breaks my heart to see everyone suffering from something that they can't control."
The MHSA released the following statement: All MHSA spring activities will be indefinitely suspended until further notice. During the suspension, MHSA member schools are not to compete in games or contests. Member schools are not to conduct practices in MHSA sanctioned sports or activities at any location. Member coaches or student-athletes are not to hold meetings or schools are not to allow students or coaches to use the school's athletic facilities for practices, games or contests in any MHSA sanctioned sport. Open gyms are also suspended during this period. The executive board will reevaluate this situation on April 13. It remains to be seen whether the COVID-19 pandemic will simply delay the spring prep sports season or cancel it completely.
"It feels unreal. There hasn't been a season I haven't participated in a sport," said Mission senior Karolyna Buck who has signed to run at Montana Tech next year. "I can't believe all of this is happening and I might not get to have a senior track season. I'm trying to stay hopeful and positive though. I guess this is proof that you shouldn't take anything for granted."
In the meantime, area athletes will continue to prepare on their own with hopes of getting back on the track or field of play at some point this spring. "My coach has been good at sending us workouts daily that are similar to what we would be doing if we were in practice," said Buck.
Umphrey said, "Because we are not able to have team practice, it has been harder to stay in shape. Normally, I would practice with my team, hit off the tee at my house and lift at the school, but with everything shut down, I now do a lot more tee work. My family will take turns hitting me balls so I can work on my fielding."
Fryberger said she has been training at home doing agility and endurance workouts to prepare for a successful track season if resumed.