Williams pleads not guilty to theft, other charges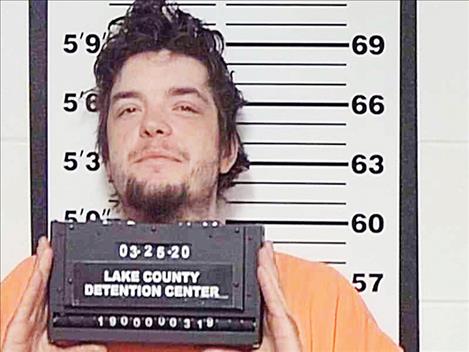 Seth Houston Dean Williams, 29, of Polson entered a plea of not guilty at District Court in Polson on April 15 to misdemeanor charges of driving with a license that is suspended or revoked, fleeing from or eluding a peace officer, operating with expired registration and a felony count for theft.
The charges stem from a high-speed pursuit with law enforcement in two counties on March 25. According to court records, shortly before 4:30 a.m., Missoula County Emergency Dispatch received a call from a man reporting a theft from his business. The business owner said that he was following the suspect's gold Ford F250 that was moving at a speed close to 90 mph.
Lake County Sheriff's Deputies and Flathead Tribal Police intercepted the suspect's vehicle at the Missoula County and Lake County line. The pursuit continued north on U.S. Highway 93, moved toward Dixon on Highway 200, then turned toward Highway 212. The Ford F250 ran out of gas on Moiese Valley Road near the River Honoring grounds. Williams was identified as the driver and placed under arrest.
The Ford F250 turned out to be stolen from Depot Junction in Polson. Law enforcement searched the stolen truck and found some of the items stolen from the Missoula business.
Williams has been charged in other criminal cases involving theft in other counties, and he was given a three-year deferred sentence on a methamphetamine-possession charge in Lake County on the same day of the pursuit. District Judge James Manley set this case for trial on Oct. 19 and maintained Williams' bail at $25,000.