Children involved in vehicle pursuit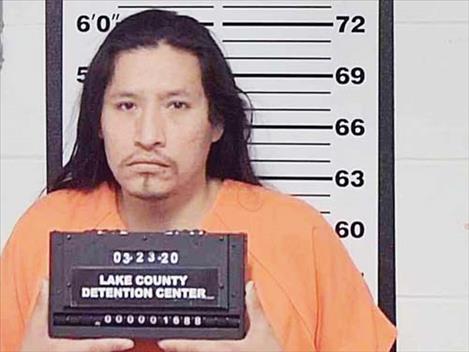 A Browning man, with ties to the Mission Valley, is accused of leading law enforcement on a vehicle pursuit with five children in his car.
Raymond James Head, 34, entered a plea of not guilty at District Court in Polson on May 6 to five counts of felony criminal endangerment.
According to charging documents, on March 19, a Lake County Sheriff's deputy responded to a report of a male holding a woman against her will while traveling north on U.S. Highway 35. The deputy was advised that a vehicle matching the suspect's vehicle was speeding on a dirt road in the Turtle Lake area. The deputy also received information that the suspect was possibly staying with a friend in the Turtle Lake area.
After arriving in the area, the deputy spotted what appeared to be the suspect's vehicle pulled off to the side of the road. As the deputy approached, the suspect backed his vehicle up, stopped, and then, he drove at the deputy. The deputy activated his emergency lights and a pursuit began. Damage to the suspect's vehicle caused it to crash near the intersection of Wall Street and Turtle Lake Road.
Head was identified as the driver and taken into custody. There were five children, ranging from 12 to three years of age, riding in the car during the pursuit.
District Judge James Manley set the case for trial on Oct. 19. At press time, Head was still in Lake County jail with bail set at $50,000.