Hesse found guilty of homicide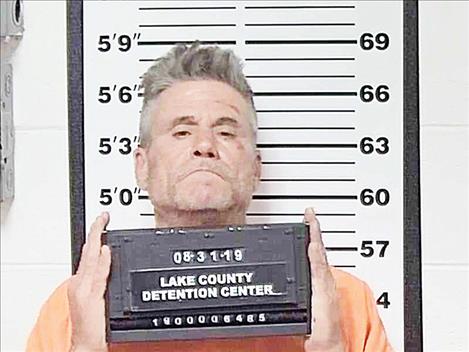 It took a Lake County jury a full day of deliberations before finding a former Colorado man guilty of deliberate homicide and tampering with physical evidence.
William Lowery Hesse, 54, was accused of beating Gyme Kelley, 63, to death. The incident occurred inside Kelley's fifth-wheel trailer. Hesse was also accused of discarding the clothing he wore during the attack.
According to court records, on the evening of Aug. 30, 2019, Hesse, Kelley and a female, who was not identified, had been together at a tavern in Pablo. Later on, they decided to continue drinking alcohol at Kelley's fifth-wheel trailer at Mission Meadows RV park.
At some point, Kelley and Hesse got into an argument. When the argument settled down Kelley and the female left for a walk. Lake County dispatch received a noise complaint at Kelley's trailer at about 3 a.m. on Aug. 31, 2019.
A responding deputy arrived to find that Hesse had torn up the inside of Kelley's trailer. A television was damaged and a barbecue had been thrown through a window. Damage to the trailer was extensive. The deputy told Hesse to "go back and sleep it off" because Hesse appeared very intoxicated and was slurring words. Body camera footage of the encounter was played for the jury.
Kelley and the female arrived back at the trailer a short time after the incident with police. Kelley became upset by the damage and told Hesse to leave. Hesse refused to leave and a physical altercation ensued. Hesse was able to get Kelley to the floor and continued to hit and kick Kelley. The female told investigators that this went on for a few hours. She said Hesse took breaks in between hitting and kicking Kelley. She said she was trying to avoid a confrontation with Hesse out of fear he would assault her.
She was able to convince Hesse to call 911 at about 3 p.m. when she could no longer feel a pulse on Kelley. An exam at the state medical examiner's office determined that Kelley had suffered blunt force trauma, causing his ribs on both sides to cave. The injury led to asphyxiation. At the trial, it was revealed that Kelley's ribs were fractured in 23 places. It was also revealed that Hesse, Kelley and the female had been ingesting methamphetamine in addition to alcohol.
In an effort to secure the crime scene, Lake County Sheriff's Office deputies hauled the fifth-wheel trailer to the Lake County transfer station with Kelley's body still inside. During the investigation at the RV grounds, detectives also found what was believed to be clothing worn by Hesse during the attack in a trash bin near the showers.
Due to COVID-19 concerns and in an effort to provide space for social distancing, jury selection for the trial took place on Sept. 25 at the Ronan Community Center. The trial commenced the following Monday. The jury began deliberating around 1:30 p.m. on Friday Oct. 2. They reached guilty verdicts on both charges at about noon on Oct. 3, according to lead prosecutor Brendan McQuillan, who is with the Lake County Attorney's Office. A sentencing date has not been determined. Hesse remains in the Lake County jail without bond.