Flathead County draws COVID enforcement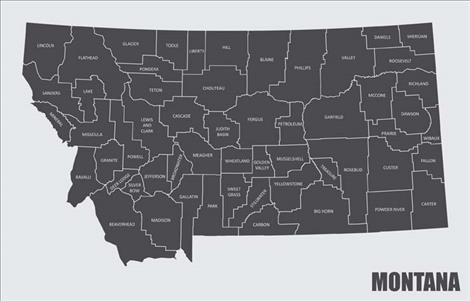 MONTANA — After encouraging local governments to more aggressively enforce public health orders including a statewide mask mandate, Gov. Steve Bullock said Thursday, Oct. 22, that the state is pursuing enforcement measures against businesses in Flathead County that have repeatedly flouted health mandates.
The same day the state announced 932 new COVID-19 cases in the state — another daily record — Bullock said the state will ask a court to force five Flathead County businesses, which Bullock said were repeat violators of health mandates meant to minimize the spread of coronavirus, to follow those orders or be closed. The state's actions stemmed from investigations state officials conducted in the county earlier this week.
"These were the most egregious cases, with previous complaints reported and documented as repeat offenders," he said.
Bullock has recently encouraged local governments to take more aggressive enforcement actions, even offering to help pay for the effort with coronavirus relief money, saying municipalities are best suited to take a more heavy-handed approach in enforcing the state's orders. One county he has singled out for more aggressive action is Flathead County.
During the state's investigation of Flathead County businesses, most, Bullock said, were following the mandates, with most customers wearing masks. Others had only minor violations, like lack of signage about mask requirements. Flathead County has the second highest number of active cases of any county in Montana, with 801 as of Thursday afternoon.
The state is asking a court to issue temporary restraining orders against the five businesses, seeking a court order to shut them down until they submit a plan to implement measures and comply with the state's public health orders, Bullock spokeswoman Erin Loranger said. Bullock didn't name the businesses Thursday, but said they would be public when court papers are filed.
Bullock also announced the creation of a web portal where the public can lodge complaints against businesses, which would be passed on to counties for investigation. "The goal here is to make sure that businesses are following the measures we need to keep folks safe," Bullock said at Thursday's press conference. "If businesses come into compliance, we'll gladly drop the enforcement."
As Bullock announced the action, some Montana counties have started to enforce health orders themselves, in some cases before Bullock's recent urging. For example, county officials in Cascade County have recently ordered three businesses to comply with public health orders. But in Flathead County, officials have, so far, pushed back against Bullock's encouragement, saying additional compliance measures are the state's responsibility. The county's health board last week rejected stricter measures in the county, like limiting gathering size.
During Thursday's press conference, officials from Yellowstone County — where officials last week enacted restrictions more strict than the state's, like limited indoor service hours for restaurants and limited gathering sizes for places of worship and private events — announced "stepped-up" enforcement of the regulations.
Yellowstone County is home to the worst outbreak of the virus in Montana, with nearly 2,000 active cases on Thursday. Yellowstone County Health Officer John Felton said the county, with funding from the state, will hire several people to investigate complaints. For businesses, organizations or individuals found to be in violation of health orders, the investigator will first offer education.
If still non-compliant after a second, unannounced visit, the investigator will deliver evidence to the county attorney for possible action. Felton said the county has received 176 complaints about businesses and others violating health orders this month, and 1,300 since March.
"We see serious need for the stepped-up response to complaints as we try to slow down the surge of the COVID-19 cases," Felton said. "Everyone needs to comply with the COVID-19 prevention directives for them to be effective. When individuals, businesses and organizations fail to follow these directives to a T, they increase the risk of spreading this disease."
The county's newly aggressive approach is supported — and encouraged — by the Billings Area Chamber of Commerce, its president and CEO, John Brewer, said Thursday. For the thousands of businesses in Billings to remain open, and to avoid having stricter measures imposed in the future, all area businesses need to abide by the orders, he said.
"A small number of businesses continue to disregard health and safety mandates, such as observing incorrect hours of operation, maintaining physical distance and wearing masks," Brewer said. "In order to keep the business community at large open, as well as to get the high number of positive cases under control, there must be enforcement behind local and state mandates."
Chris Aadland covers tribal affairs in Montana as a Report for America corps member based in Billings. Before moving to Montana he covered the Wind River Reservation in Wyoming for the Casper Star-Tribune and has also reported for the Wisconsin State Journal.