Gianforte sworn in as Montana's 25th Governor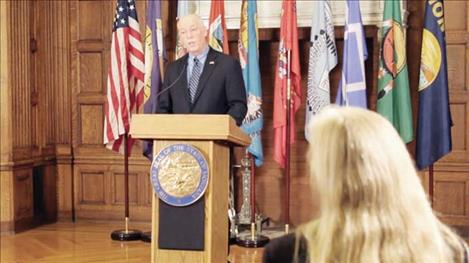 HELENA — Governor Greg Gianforte this morning took the oath of office as the 25th governor of the state of Montana.
Gianforte's swearing-in was attended by family, and Montanans throughout the state watched the ceremony virtually.
Presiding over the event, Montana Senator Greg Hertz welcomed attendees and delivered brief opening remarks. After Pastor Bryan Hughes provided the invocation, Luke and Mark Juras, Lieutenant Governor Kristen Juras's sons, sang the "National Anthem."
Montana Supreme Court Justice Jim Rice administered the oath of office to Juras.
Judge Mary Ann Knisely of the Yellowstone County District Court swore in Gianforte. Knisely shares Gianforte's commitment to expanding treatment courts to help non-violent offenders who are struggling with addiction.
After taking the oath of office, Gianforte delivered his inaugural remarks in which he focused on Montana's outstanding potential, bipartisanship, and overcoming the coronavirus and economic pandemic.
Montana's first Republican governor in 16 years, Gianforte said, "I see Montana's outstanding potential. I see it in hardened hands and warm hearts of hardworking Montanans. I see it in the smiles and hopefulness of our kids. I see it in the charity and goodwill of our neighbors. I see it in the splendor of our landscapes. We have an opportunity to help Montana realize our full potential. We must seize this opportunity and act. To do so will require leadership. But no one leader can do this alone. It will require all of us to work together. Ladies and gentlemen, let's work together to help Montana realize our full, outstanding potential."
Wylie Gustafson, an inductee to the Montana Cowboy Hall of Fame and the lieutenant governor's sister, performed songs throughout the program.