COVID-19 vaccination experience shared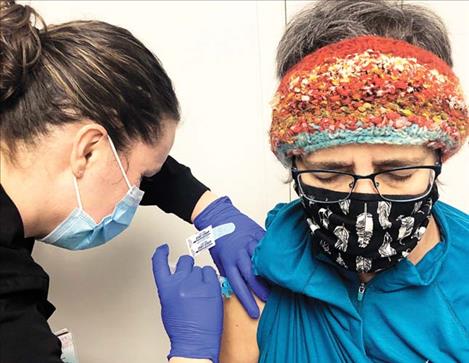 When the staff at Providence St. Joseph called last Wednesday to schedule my first dose of the COVID-19 vaccine, I was surprised at the tears that popped into my eyes. After all, it's been 11 months of masking up and keeping my distance from all but a handful of friends and family members. Is the end of the pandemic near? It certainly feels that way.
When I arrived at Grandview Clinic, northwest of the Polson hospital, the lobby was full of people like me, waiting for our first dose, or – in some cases – dose number two. I heard a woman in the registration line confide that her roommate hadn't left the house more than once a month since last March but was also "paranoid" about the vaccine.
It reminded me of a conversation I overheard a few weeks prior, when a young woman asked a local doctor what he thought of the vaccine. "I've heard it can change your DNA," she said. "It scares me."
"Get it," he replied. "I guarantee, getting the shot is much easier than getting the virus. Believe me, you don't want COVID."
And, for the record, none of the vaccines contain the live virus that causes COVID-19, and therefore, won't make people sick with the virus. Nor, despite social media claims to the contrary, do they tinker with a person's DNA.
Once sequestered for my shot with Nurse Lisa Grainey, I grilled her about the possible side effects. She said my arm was apt to be sore, and redness and swelling often occur. "It's also normal to feel a headache, tired, body aches, fever and nausea for up to two weeks after the shot," she said. "That's because it takes two weeks to fully develop that immune response."
In her case, she felt fine at the onset but fatigued a week after the shot. The most frequent complaints she hears are fatigue, body aches and occasionally, a fever. "Most people have done better with the first dose and had a harder time with the second dose because your body already has a little recognition and is reacting to that."
She recommends Tylenol or Ibuprofen, plenty of fluids and rest.
The shot itself was easy, and I was simultaneously scheduled for my second in March. Afterwards, I felt drowsy, and my arm ached a little for a day or so.
While waiting for my chance to get the vaccine, I checked in with the dozen or so relatives and friends who've had theirs. They reported digestive issues, sore arms, fatigue, and often, no discomfort whatsoever. Curiously, my sister – who had COVID-19 in October and was hospitalized for a week with its after effects – suffered the most severe response.
"I felt like I got run over by a semi," she reported after her first shot. Fortunately the symptoms subsided within a day or so.
Why get the vaccine? According to the Centers of Disease Control:
• The crop of vaccines, currently available in the United States, are highly effective at preventing COVID-19. Moderna, the vaccine most common in Lake County, is 94 percent effective, and Pfizer-BioNTech boasts 95 percent effectiveness.
• Even if you still get COVID (and there's evidence that can occur), experts believe that a vaccine may lessen the symptoms and help prevent serious illness and hospitalization.
• While people do gain limited immunity from having the coronavirus (researchers estimate it lasts up to 90 days), those antibodies dissipate, leaving the person vulnerable to catching the virus again. Although antibodies from the vaccine eventually wear off too, they're apt to last a few years, researchers say. This means the shot may have to be administered annually, much like flu vaccines.
• And here's the bad/good news: the coronavirus that causes COVID-19 is mutating as it spreads around the world, and at least three of the new variants appear to be more contagious and spread even more quickly than the one most common in the U.S. But so far, studies indicate that antibodies generated through this group of authorized vaccines tackle these variants too.
Is the end really in sight? Scientists say that COVID-19, or its next of kin, is probably here to stay; however, if enough people get vaccinated and we begin to develop herd immunity, the next go-around will be a lot less deadly than this one, which means some semblance of "normalcy" could return as early as this summer or next fall.
Meanwhile, healthcare professionals at the local, state and national level continue to say the same thing: "Strong public-health measures remain critical to saving lives during this period," even for those who are vaccinated. And we all know what those are, right? Keep wearing masks in public places, stay at least six feet away from others, avoid crowds, and wash, wash, wash your hands.
COVID-19 related numbers reported
According to the latest information available at press time, the State of Montana has delivered 176,719 doses of vaccine and 50,750 Montanans are fully vaccinated. As of Feb. 12 in Lake County, 4,642 doses have been delivered and 973 people are fully immunized.
On its website, the county posted 1,973 confirmed cases; of those, 1,903 have recovered, 122 were hospitalized (including two currently) and 27 died.
Lake County and the Confederated Salish and Kootenai Tribes continue to prioritize those in Phase 1B: people 70 and older, those 16-69 with high-risk medical conditions, and Native Americans and other people of color who may be at elevated risk for COVID-19 complications. Vaccinations in Phase 1A, aimed at frontline healthcare workers and those living in long-term care and assisted-living facilities, began in December and is nearly wrapped up.
Phase 1C, expected to begin in March, covers frontline essential workers such as teachers, people 60 and over, and those 16-59 with certain medical conditions. All remaining Montanans are eligible in Phase 2, tentatively slated to begin in July. These timelines hinge upon vaccine availability.
To schedule a vaccine, reach out to your primary care provider or one of the Lake County distribution sites.
St. Luke Healthcare has an online registry for patients at stlukehealthcare.org/covid-vaccine/ and is reaching out to schedule those at highest risk first. Patients are asked not to call the clinic for vaccine appointments.
Providence St. Joseph also advises patients not to call the medical center for appointments. "We'll reach out to you through your primary care provider to ensure those who are eligible next are notified in a timely manner, and as supplies allow," advises the website, coronavirus.providence.org.
Tribal Health offers clinics twice a week at the Fitness Center in St. Ignatius and KwaTaqNuk Resort in Polson. Tribal Health patients must preregister and schedule appointments in advance; call 406-745-3525 or learn more about their online registration platform at www.cskthealth.org.
Lake County Public Health is now delivering 120 doses per week, during full-day clinics on Wednesdays and Fridays, and hopes to increase that to 160 doses per week in April. Those who fit the 1B guidelines and do not have a local primary care provider may call 406-883-7288 to be added to the county's waitlist (which is currently a month out).
Callers who don't reach a receptionist are asked to leave their name, phone number, date of birth and, if applicable, any underlying health conditions. And then, practice patience. According to the website, "You will not be contacted by the health department until we work our way down the list and call to schedule your appointment."
For more information, visit lakecountypublichealth.org or monitor the Facebook page.
Select pharmacies are also beginning to offer vaccines. Check www.walgreens.com, your local pharmacy or covid19.mt.gov for more information on that facet of the rollout.
Even though Gov. Greg Gianforte lifted his predecessor's mask mandate on Friday, the county health department still recommends masking as one of the most effective ways to prevent the spread of COVID-19.