Corcoran pleads not guilty to charges carrying possibility of life in prison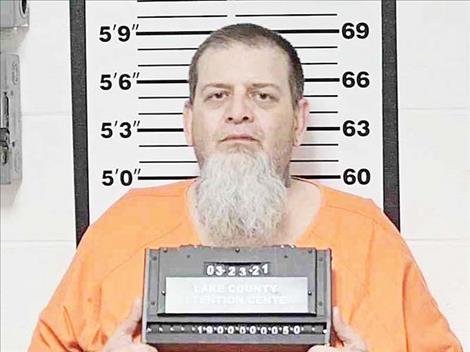 A Charlo man could be facing the rest of his life in prison after threatening the mother of his child and her fiancé with a gun.
Stoney Randal Corcoran, 50, has been charged as a persistent felony offender. He entered a plea of not guilty at District Court in Polson, on April 8, to two counts of assault with a weapon, criminal endangerment, assault on a peace or judicial officer and intimidation – all felonies.
According to court records, on March 23, Lake County Sheriff's Office deputies responded to a report that Corcoran had chased a woman down, threatened her with a gun and was blocking her in with his Ford Bronco at an unspecified gas station in Ronan.
At the scene, the first responding deputy ordered Corcoran to the ground as a protective measure as the man was reported to have had a gun. Corcoran allegedly refused and fought with the deputy, punching him in the left cheek. A second deputy was able to take Corcoran into custody.
A relative of the alleged victim told deputies that Corcoran had come to her house to pick up his daughter but was unable to take her and left. After he left, he is alleged to have spotted the female victim driving on U.S. Highway 93 and followed her, while forcing other motorists to take evasive action to avoid a collision. Witnesses reported that the suspect seemed to be attempting to run the victim off the road while brandishing a gun.
The victim stated that Corcoran texted her and said if she gets a restraining order she will "see how good it does her" and that she would never see her fiancé again. The victim also stated that Corcoran had come to her place of work and had also let himself into her house.
At the victim's house, Corcoran is alleged to have held the fiancé at gunpoint. During another incident, Corcoran allegedly pointed a gun at the victim and her fiancé as they were driving in the Charlo area.
At the beginning of the arraignment hearing, Lake County Attorney Steve Eschenbacher told the court that his office was charging Corcoran as a persistent felony offender due to his extensive criminal record.
Records show Corcoran was sentenced for aggravated assault with a dangerous weapon to the Montana State Prison in July of 1989 for 10 years with seven suspended. He has since been sent back to prison on numerous occasions for violating the terms of his probation and committing crimes in at least three other counties in Montana as well as in Washington.
The crimes mentioned in his report of violations include domestic violence, drug possession and failing to register as a violent offender in Lake County in 1991.
Judge Deborah "Kim" Christopher set the most recent case for trial on Nov. 8. Corcoran remains in the Lake County jail with bail set at $100,000.