McGreevey asks for help with addiction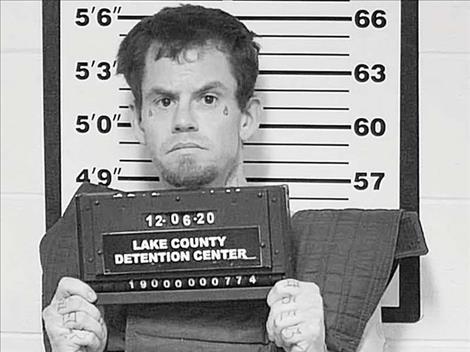 A Pablo man, who confessed to the unprovoked shooting of two people in Pablo last December, was sentenced to the Montana Department of Corrections for a total of 15 years with none of that time suspended.
The sentence was handed down at District Court in Polson by Judge Deborah "Kim" Christopher on May 27 in the case of Joshua Franklin McGreevey, 32. The sentence was in accordance with a plea agreement reached on March 4 that called for one count of tampering with physical evidence being dismissed and McGreevy pleading guilty to two counts of assault with a weapon.
According to court records, at about 8 p.m. on Dec. 4, 2020, McGreevey came down the stairs of a residence on Whispering Pines Drive and shot two victims with a .40 caliber handgun. The male victim was struck in the abdomen, and the female victim was struck in the upper leg. Witnesses told responding law enforcement officers that the shooting was unprovoked. Law enforcement found .40 caliber shell casings in areas consistent with eye-witness accounts of what happened.
McGreevey allegedly admitted to witnesses to shooting the two victims. McGreevey is also alleged to have hid the weapon on property near where the incident occurred. The weapon was later located by investigators.
McGreevey's attorney, Bob Long, of Polson, said during the change of plea hearing in March that his client has been diagnosed with a mental health disorder and may have been under the influence of drugs at the time of the shooting. McGreevy told the court during the sentencing hearing that he has a drug problem and needs help.
Before accepting the terms of the agreement, Christopher inquired about the victims. Prosecutor Brendan McQuillan with the Lake County Attorney's office replied: "They don't seem to care that they were shot, as strange as that sounds." He said they have tried to communicate with the victims numerous times and got little to no cooperation.