Manyhides pleads guilty to drug possession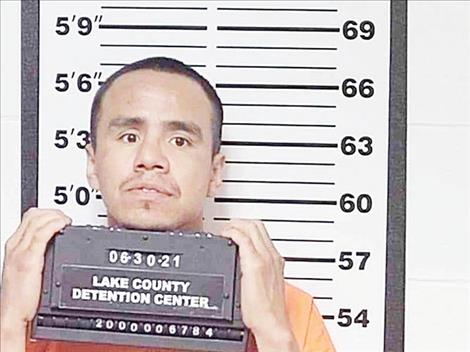 POLSON — A Polson man is getting four separate drug cases dismissed for pleading guilty to a fifth. Matthew George Manyhides, 33, entered a guilty plea to felony criminal possession of dangerous drugs and a reduced charge of misdemeanor assault. The pleas were entered during a change of plea hearing at District Court in Polson on Sept. 22. In exchange for his guilty plea, the state is willing to dismiss at sentencing four counts of criminal possession of dangerous drugs and amend felony assault with a weapon to misdemeanor assault.
Manyhides is accused in charging documents of threatening a group of people, including a sibling, with a knife at an apartment in the 400 block of 11th Ave E in Polson on Dec. 23, 2020. Manyhides admitted to responding officers to using the knife to scare the group of people.
He also is accused of being in possession of methamphetamine after Ronan Police allegedly found methamphetamine in the car he was driving on Dec. 6, 2020.
The cases to be dismissed involve an incident on April 1 when Polson Police were dispatched to a report of possible drug sales taking place from a gray Chrysler in the Polson Wal-Mart parking lot. As officers arrived the gray Chrysler was driving away and a traffic stop was made. Manyhides was a passenger. He was found to have had "two large wads of cash" in his pockets ranging from fives to twenties. Manyhides explained it was his stimulus money. Officers also located heroin in the vehicle and items used to consume heroin.
Manyhides was the subject of another traffic stop on April 3. A search of the vehicle he was driving turned up methamphetamine. In another traffic stop on April 9, officers found heroin and items to ingest heroin. Manyhides was spotted driving again on June 17. The officer who observed Manyhides knew his driving privileges were revoked so a traffic stop was conducted. A search of the vehicle he was driving turned up 30 blue pills that contained fentanyl.
Judge James Manley, who is not bound by the plea agreement, set sentencing for Nov. 10. Manyhides remains in the Lake County jail with bail set at $75,000.