Pirates fall short of state title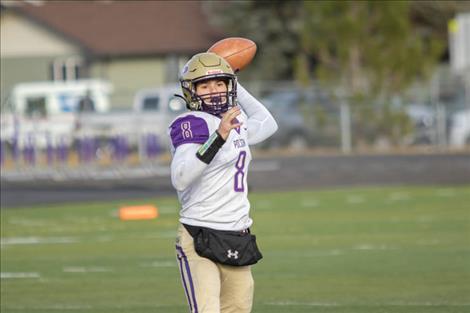 LAUREL — The Polson Pirates' dreams of a Class A state football championship where derailed Saturday afternoon by the Laurel Locomotives as the Pirates fell to the hosting Locomotives 28-14.
Battling blustery weather and a very stout Laurel defense, the Pirates lost their first game of the 2021 season, while the Locomotives continue their perfect season at home next weekend playing for back-to-back state titles.
The Locomotives were first to light up the score board on a four-yard touchdown run late in the first quarter.
Jarrett Wilson and the Pirates tied the score early in the second quarter on a two-yard scoring run after stopping the Locomotives on a fourth down play.
The Locomotives reclaimed the lead late in the second quarter on a fourth down 74-yard screen pass.
Returning from the locker room after the half up 14-7, Laurel took control of the game clock on offense and didn't allow a touchdown until late in the fourth quarter when Wilson tossed a 52-yard touchdown pass to Colton Graham.
Under pressure for most of the game, Wilson threw for 214 yards on 21-of-27 passing, one touchdown and one interception. Wilson also rushed for 16 yards on 12 attempts and a score.
Graham snagged seven catches for 71 yards and a touchdown, while Xavier Fisher grabbed seven catches for 66 yards. Fisher also rushed for 16 yards on three carries.
Also for the Pirates, Keyen Nash rushed seven times for 26 yards and caught three passes for 25 yards.
Wilson finishes the year with a state-leading 48 pass touchdowns on just three interceptions going 228-of-321 passing for 3,081 yards. Wilson rushed for six touchdowns and 646 yards on 103 carries.
Graham ends his senior year with a team high of 69 catches for 1,108 receiving yards and 16 touchdowns. Fisher finishes the year with 655 receiving and 10 touchdowns, while Robert Perez caught eight touchdowns on 578 yards receiving.
Polson's Pirates finish the season with an overall record of 11-1.