Cote takes 113-pound Owen title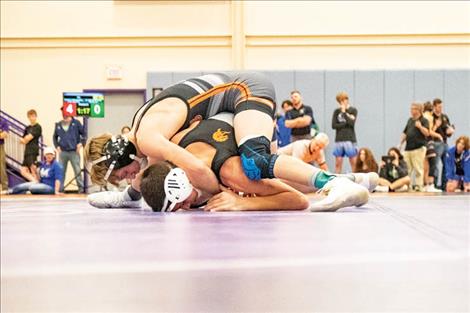 POLSON — Ronan Chief wrestler Ridge Cote took the individual title at 113 pounds on Saturday during the annual Owen Invitational held at Linderman gymnasium in Polson.
Entering the title match undefeated, Cote, a freshman at Ronan High School, won by fall over Lake City High School junior Zach Macdonald.
Ronan finished third as a team with 1293 points and sent four wrestlers into the championship brackets during the two-day, 19-team event.
For Ronan, Koda King placed second in the 132-pound bracket, while Landon Bishop nabbed third place in the 145-pound class and Fortino Silva Matt finished fifth in the 138-pound class.
Wrestling in the 170-pound division, Mission/Charlo Bulldog Canyon Sargent reached the finals but fell to Max Hannum (Thompson Falls High School) by pin in the title bout.
Also for the Bulldogs, Kody Dillard (103) placed fifth and Isaiah Fields (132) finished sixth.
Tournament host Polson Pirates finished with three grapplers in the championship brackets.
Pirate Jaren Keene earned third in the 170-pound bracket, while Ryley Knutson (113) finished fourth and Braedon Illi (113) placed sixth.