Polson woman accused of vehicular homicide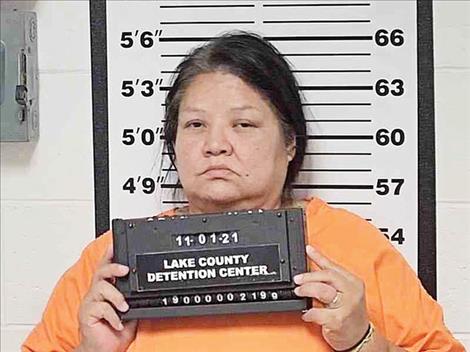 POLSON — A Polson woman accused of running over and killing another woman on Halloween appeared at District Court in Polson Dec. 2 for an arraignment hearing. Sharon Lynn Whitworth, 56, entered a plea of not guilty to vehicular homicide while under the influence, felony.
According to court records, on Oct. 31, Lake County Sheriff's Deputy Jim Atkins responded to a report of a vehicle versus pedestrian on Huckleberry Lane. Upon arriving, Deputy Atkins discovered a silver Cadillac with a deceased person underneath it next to a driveway and a man bleeding from his face. The bleeding man told Atkins that he had just finished dinner when he heard dogs begin to bark and noticed a car driving through a field across the street from his house. He said his mother, Tonya Charles, 63, went outside and called law enforcement to report a possible drunk driver. The suspected drunk driver was acting impaired and yelling inside her Cadillac. When Charles attempted to take a picture of the suspected drunk driver, the driver accelerated over a gate and ran over Charles, dragging her across the driveway and pinning her under the Cadillac. Tonya's son attempted to reach into the window of the Cadillac to remove the keys from the ignition and the driver, later identified as Whitworth, punched him causing him to bleed from his face. The son ran to his garage and retrieved a carjack in an attempt to lift the Cadillac off his mom, but Tonya Charles died of her injuries. A neighbor also witnessed the incident and corroborated the son's version of events.
Whitworth refused to participate in field sobriety tests. Law enforcement obtained a search warrant for a blood draw. When interviewed by law enforcement, Whitworth allegedly admitted to drinking a lot that day. When asked by Lake County Sheriff's Detective Devon McCrea "on a scale of one to ten with ten being the highest, how intoxicated were you?" Whitworth allegedly replied "10."
An investigation showed that prior to striking and killing Charles, Whitworth had allegedly struck another vehicle, hit several trees and ran over and killed the neighbor's dog.
Judge Deborah "Kim" Christopher set a trial date of March 21. Whitworth remains in the Lake County jail with bail set at $250,000.