Henriksen signs letter of intent with the Griz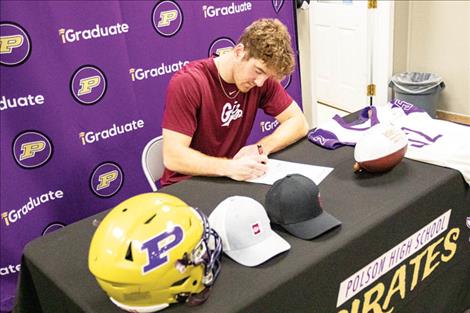 POLSON — Polson Pirate Braunson Henriksen, who announced his verbal commitment to play football for the Griz earlier this month, on Wednesday morning made it official by inking the dotted line of his National Letter of Intent to the University of Montana.
Henriksen was joined in the PHS weight room by family and fellow Pirate teammates as he prepared to take the next step in his academic and athletic career.
"Have been a Griz fan pretty much my whole life," Henriksen explained why he chose the U of M. "Also, their team motives and philosophies really appealed to me."
In the upcoming fall when not preparing for Saturday afternoon games, Henriksen will be working his way toward a degree in business.
Playing at the defensive end spot this season for a Pirates' team that finished with an overall record of 11-1, Henriksen, the 6-foot-5, 230-pound Henriksen garnered a Class A all-state selection, first-team all-conference accolades and a Western A co-most valuable defensive player award.
On the season, Henriksen recorded 48 tackles which including a team-high 19.5 tackles for loss and a team-best eight sacks.