Maidens, Lady Bulldogs battle in intravalley matchup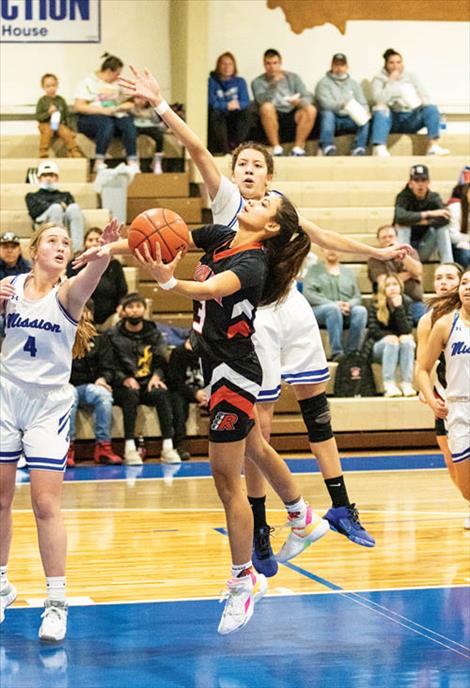 ST. IGNATIUS — Two neighboring valley teams squared off this past weekend in the first of two nonconference basketball meetings designed to test each other without league implications.
The Mission Lady Bulldogs hosted round one of the cross-county rivalry on Saturday, falling to the visiting Ronan Maidens 53-47.
After an 8-2 run by the Maidens put the Lady Bulldogs' backs against the wall early, the Lady Bulldogs battled back to finish the first quarter down only by one point, 11-10.
Throughout the majority of the second quarter both squads battled toe-to-toe with neither team taking a distinct advantage over the other.
With just over two minutes remaining in the second quarter, Ronan closed out the first half on a 7-0 scoring run sending both teams off into the locker room with the Maidens up 28-20.
Trailing Ronan by eight at the beginning of the second half, Mission's deficit quickly grew to 12 points in the third quarter, 37-25, as the Maidens made the most of turnover opportunities committed by the Lady Bulldogs.
Down 41-30 at the start of the fourth quarter, the Lady Bulldogs clawed back into the game to pull within a four-point margin of the Maidens but were unable to top Ronan in the 53-47 final.
Lady Bulldog freshman Kason Page led all scorers with 19 points. The next highest scorer for the Lady Bulldogs was Kooper Page with 14 points.
The Maidens were offensively paced by LaReina Cordova with 17 points followed by Olivia Heiner with 14 points.
Both teams will reconnect on the court when the Maidens host the Lady Bulldogs Thursday, Jan. 27, at 6 p.m.