Sports Shorts for Jan. 26, 2022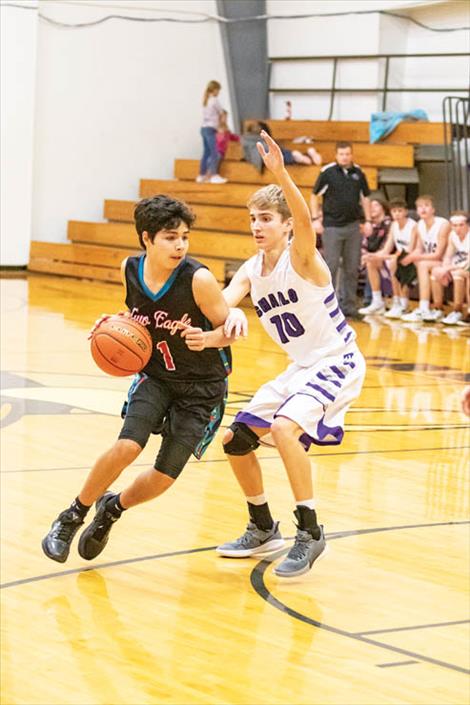 Basketball
Boys
Ronan Chiefs
On Friday evening, the Ronan Chiefs fell 59-38 to the hosting Whitefish Bulldogs. Elijah Tonasket posted a Ronan team high 11 points.
Payton Cates scored 13 points and Ruben Couture added 11 more points as the Chiefs fell 50-45 to the visiting Browning Indians on Saturday.
Mission Bulldogs
The Mission Bulldogs on Friday evening routed the visiting Troy Trojans 61-14. Zoran LaFrombois sank a game high 27 points for the Bulldogs.
The Bulldogs lost a narrow 57-54 road game to the Bigfork Vikings on Saturday.
LaFrombois led all scorers with 21 points, followed by Ross McPherson with 11 points and Kellen McClure with 10 points.
Polson Pirates
Polson Pirates' trio Trent Wilson, Colton Graham and Jarrett Wilson all scored in double digits Thursday evening helping the Pirates outpace the visiting Corvallis Blue Devils 79-43.
Trent Wilson scored a game high 19 points followed by Graham with 11 points and 10 points from Jarrett Wilson.
In a Northwest A matchup Saturday, the Pirates defeated the visiting Libby Loggers 57-40.
Graham and Trent Wilson both scored 16 points apiece, while both Jarrett Wilson and Xavier Fisher each scored 10 points.
Charlo Vikings
Wesley Anderson scored a Charlo Viking's team high 23 points during Friday's 80-68 home loss to the St. Regis Tigers.
Also for Charlo, Colt Hovet chipped in with 10 points.
Girls
Ronan Maidens
The Ronan Maidens defeated the visiting Whitefish Lady Bulldogs 38-31 on Friday evening.
Olivia Heiner paced the Maidens with a game high 17 points followed by Dani Coffman with 13 points.
Heiner led the Maidens with nine points in a 52-27 home loss to the visiting Browning Lady Indians on Saturday afternoon.
Mission Lady Bulldogs
Kooper Page on Friday evening scored a game high 19 points leading the Mission Lady Bulldogs past the visiting Troy Lady Trojans 61-19. Also for the Lady Bulldogs, Madyson Currie chipped in with 11 points.
The Lady Bulldogs defeated the visiting Bigfork Valkyries 57-54 on Saturday. Kason Page led the Lady Bulldogs with 19 points, while Kooper Page booked 17 points on the day.
Charlo Lady Vikings
Playing at home in 14C District match up on Friday, Mila Hawk scored 22 points leading the Charlo Lady Vikings to 51-32 victory over the St. Regis Lady Tigers. Also for Charlo, Kass Cox booked 14 points.
Polson Lady Pirates
The hosting Corvallis Lady Blue Devils slipped past the Polson Lady Pirates 62-56 in overtime on Thursday.
For the Lady Pirates, Turquoise Pierre posted a team high 15 points followed by Arianna Burke with 11 points.
On Saturday, the Lady Pirates outpaced the Libby Lady Loggers 52-30. Jazlyn Dalbey scored a Lady Pirates team high 13 points followed by Areanna Burke who chipped in with 10 points.
Wrestling
Ronan Chiefs and Maidens
Competing during the 22 team Montana Class A Duals hosted at Fergus High School gymnasium in Lewistown on Friday and Saturday, Ronan finished sixth overall after falling 18-12 to the Columbia Falls Wildcats in the championship brackets on Saturday.
The Chiefs finished second in Pool C action with an overall record of 3-1. Ronan fell 40-25 to Laurel but picked up wins over Beaverhead 60-18, Dawson County 45-19 and Fergus (Lewistown) 45-25.
Also for Ronan, Maiden wrestlers Tirza Two-Teeth in the 205-pound weight class picked up a second place finish and Saellah Hugs placed third in the 103-pound weight class during the Fergus Girls Invite.
Mission / Charlo Bulldogs
On Friday and Saturday during the Ted Kato Memorial Tournament held in Thompson Falls, Mission Bulldog Charley Adams snagged a runner up finish in the 152-pound weight class, while Canyon Sargent placed third in the 170-pound weight division and Kody Dillard in the 103-pound class finished fourth.
Arlee Warriors
Arlee Warrior Brody Smith placed third in the 113-pound weight class during the Ted Kato Memorial Tournament at the Thompson Falls High School this past Friday and Saturday.
Polson Pirates
Polson Pirates 103-pound weight class wrestler Ryley Knutson finished second during the Ted Kato Memorial Tournament held on Friday and Saturday in Thompson Falls.