Haworth pleads guilty to vehicular homicide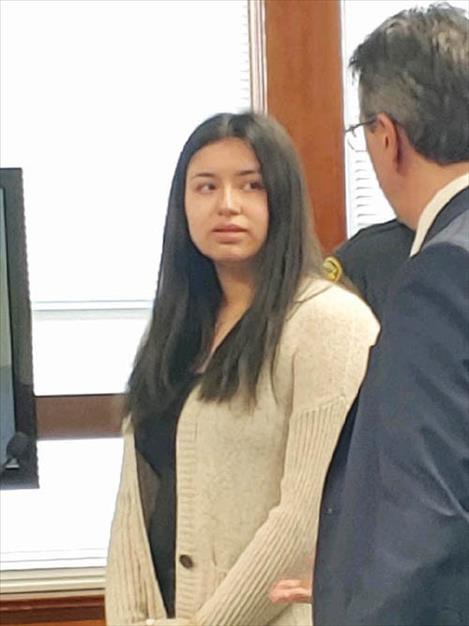 POLSON — An Arlee woman who was charged with causing a fatal head-on collision on U.S. Highway 93 after fleeing a traffic stop in Polson admitted to causing the wreck. Shannon Sierra Haworth, 18, entered a plea of guilty at District Court in Polson on April 7 to felony vehicular homicide while under the influence. The plea was entered as part of an agreement that the state will recommend sentencing be capped at 20 years in the Montana State Women's Prison.
According to court records, just after midnight on May 28, 2021, as a Lake County Sheriff's deputy was returning to the Lake County Courthouse in Polson, the deputy observed a vehicle approaching with its headlights on. The deputy made a traffic stop on the vehicle. The driver, later identified as Haworth, seemed distraught and admitted to consuming alcohol earlier. As the deputy was waiting for backup to arrive, Haworth took off south bound on U.S. Highway 93 at a high rate of speed. The deputy lost sight of Haworth's vehicle. Other law enforcement officers intercepted the vehicle as it traveled through Pablo with speeds reaching up 120 miles per hour. Pursuing law enforcement officers were unable to close the gap between them and Haworth. Haworth's vehicle moved into the northbound lane and struck another motorist head-on, killing the driver and lone occupant of the vehicle instantly. Haworth, who made her initial court appearance in August 2021 while confined to a wheelchair with visible injuries to her lower extremities, had to be airlifted from the scene of the crash to an area hospital.
Lake County Attorney Steven Eschenbacher says he'll recommend Haworth be sentenced to the Montana State Women's Prison for 20 years with 10 years suspended. Haworth will have the opportunity to argue for a more lenient sentence. Judge Deborah "Kim" Christopher set sentencing for May 26.