MAC runner up in Class B/C State softball finals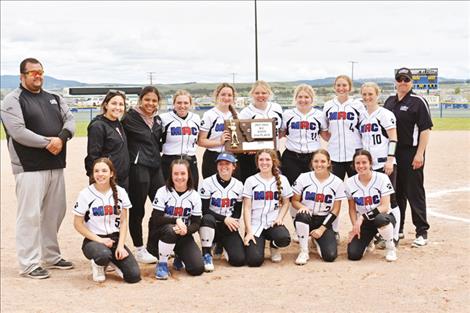 LEWISTOWN — Second verse, same as the first.
For the second consecutive year, the Florence-Carlton Lady Falcons derailed the Mission-Arlee-Charlo (MAC) Lady Bulldogs' hopes of bringing home a state championship trophy with a 14-11 victory during Saturday's Class B/C state championship game hosted at the D'Autremont Complex in Lewistown.
In the opening round of the tournament on Thursday, an eight run third inning by MAC bats helped the Lady Bulldogs push past the Conrad-Choteau Cowgirls 10-6.
Jerny Crawford led MAC at the plate, going 2-for-4 with a triple, a bases loaded grand slam home run and four RBIs.
On Friday morning, MAC came away with a narrow 9-7 win over the Shepherd Fillies.
Picking up the win, Izzy Evans went the distance for MAC in the circle, allowing seven runs on 11 hits and striking out five.
Helping out her own cause at the plate, Evans hit a home run and picked up three RBIs on the day.
The win set up a late Friday afternoon semifinal showdown with archnemesis Florence-Carlton Lady Falcons.
After playing three innings, MAC led 8-5. However, a seven run fourth inning by the Lady Falcons put the game out of reach.
Looking to keep their championship hopes alive in the loser's out bracket Saturday morning, MAC faced and defeated Shepherd by a score of 9-4.
Rheid Crawford, Jerny Crawford, and Evans all had home runs in the game.
Evans held the Fillies to just four runs on four hits, while walking none and striking out six.
In the championship game Saturday afternoon, MAC faced Florence for the second time in the tournament and fifth time overall this season.
Knotted up 5-5 after three and a half innings, the Lady Falcons scored three runs in the fourth inning and four runs in the fifth to claim their second consecutive state championship.
At the plate four MAC, Evans went yard twice in the game followed by Rheid Crawford and Hayleigh Smith who both had a home run each.
MAC wrapped up their season with a Class B/C State runner-up trophy and an overall season record of 26-6.
In their recorded six losses, early in the season MAC fell 11-5 to the subsequent Class A State Champion Frenchtown Lady Broncs, and five times to Florence-Carlton.
In those five meetings, the MAC and Lady Falcons bats combined for a grand total of 105 runs.