Monkeypox arrives in Lake County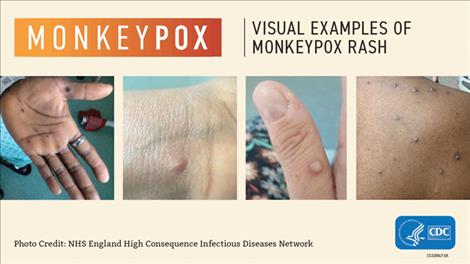 LAKE COUNTY — Public health officials announced last week that a Lake County adult has a probable case of monkeypox – the third diagnosed in Montana. The first case was reported in early August in Flathead County, followed by a second in Gallatin County. As of last Friday, the Centers for Disease Control had tallied 17,432 cases in the U.S., with the highest counts in California, Florida, Illinois, New York and Texas.
According to a joint press release, Lake County and CSKT Tribal Public Health are working together to identify individuals who may have been in contact with the patient while they were infectious, and plan to alert those identified as close contacts.
Meanwhile, the patient did not require hospitalization and is isolating at home.
Lake County Public Health Officer Megan Vigil regards monkeypox as "a serious public health threat in general, although the pathophysiology of the disease doesn't tend to be as serious as COVID."
Compared to the coronavirus, which has killed more than a million Americans since it first surfaced in 2020, monkeypox "is rarely fatal," she adds.
Vigil, who is a family practice physician at St. Luke Community Healthcare, believes there is still reason to be concerned. "The potential for it to become widespread is definitely high," she says.
Although it's not easily spread, transmission can occur through contact with infectious sores and body fluids and contaminated items such as clothing or bedding, or through respiratory droplets associated with prolonged face-to-face contact.
While the uptick in cases has been blamed largely on sexual practices among certain populations, "it is spread by other methods too," says Vigil. "I don't think it will take a lot of other cases to start community-based spread."
According to the World Health Organization, human monkeypox was first identified in Africa in 1970 and initially appeared in the U.S. in 2003, with transmission linked to contact with infected pet prairie dogs, imported from Ghana.
It belongs to the same viral clan as smallpox, which was eradicated in 1980 due to a worldwide vaccination effort. Crucially, monkeypox tends to be much milder than smallpox and causes far fewer fatalities.
The two viruses share similar symptoms however: fever, headache, muscle aches and backache, chills, exhaustion, and a rash that can look like pimples or blisters that appear on the face, inside the mouth, and on other parts of the body. Swollen lymph nodes are often a distinctive feature of monkeypox.
Antiviral drugs and vaccines developed to protect against smallpox have been used to prevent and treat monkeypox infections, although the Centers for Disease Control are not currently recommending widespread vaccination. The Montana Department of Health and Human Services announced last week that it has secured a supply of antiviral medications to use, if needed.
According to Vigil, the telltale rash can appear almost anywhere. Although it often shows up first around the genitals or mouth, it can also emerge or spread to other parts of the body, including the face, hands, feet, and trunk.
She describes the rash as "discrete little red bumps that can go through stages of looking like blisters or like pimples and can break open and then scab over." Images are available online.
"If people have a rash that looks anything like that – even if they have no other symptoms – I think they should seek care," says Vigil. If healthcare is not available, "stay home, assume this is it and isolate."
The rash should be kept completely covered until sores are healed, and those infected with the virus should remain in an area that's separate from family members and pets.
The usual health precautions are also recommended: "wear a mask when you go out or are around others and wash hands frequently."
According to the World Health Organization, the incubation period for the virus is typically 6-13 days, with skin eruptions usually appearing from one to three days after the onset of a fever.
The illness typically lasts from two to four weeks and most people get better on their own without treatment. At times, monkeypox can cause scars from the sores, and may result in other complications, including secondary infections, pneumonia and sepsis.
Vigil cautions that like COVID, people with compromised health are more vulnerable to complications.
Speaking of COVID, Vigil says the healthcare community is seeing a recent upswing with new cases "popping up every day."
"The good news is most of these cases are much less severe than when the original outbreak happened," she says. "We're not seeing nearly as many hospitalizations."
A new "bivalent" booster that targets both the original coronavirus strain and the more recent omicron subvariants is expected to be available early this fall, and Vigil will be encouraging her patients to bare their arms for a shot.
"Any chance to build immunity is a good thing," she says.
For more information on monkeypox or for COVID updates, head to www.cdc.gov.