Flathead Audubon sponsors Birds of Prey Festival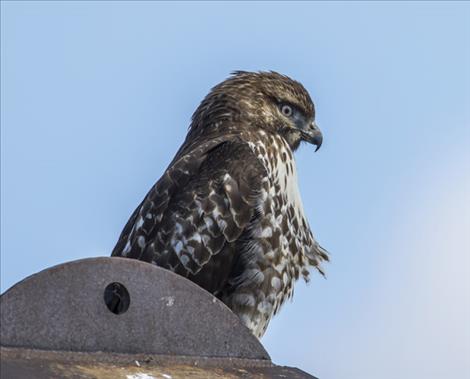 News from the Flathead Audubon Society
KALISPELL — Flathead Audubon will hold the 14th Annual Birds of Prey Festival on Saturday, Sept. 17 from 9 a.m. until 1 p.m. at Lone Pine State Park in Kalispell. This free family event will feature Kate Davis of Raptors of the Rockies, a 34-year raptor educator, photographer and artist, and author of seven books about birds of prey. She will provide a dynamic keynote presentation on "Fascinating Falcons," along with her Peregrine and Aplomado Falcons and a "surprise" owl.
Dr. Kurt Lindsay, Neurologist and owner of Nebulosa Photography, will present "Owls Through the Lens" and offer his intimate and absolutely stunning photographs of all the owls of Montana along with stories about his relationships with owls.
Dan Casey, retired professional Ornithologist, founder of Jewel Basin Hawk Watch, and co-author of Birds of Montana, will present "Who's That Flying Over?", a very informative program that offers tips and tricks on identifying birds of prey from below. Flathead Audubon will have 27 full-sized color raptor silhouettes for your practice, and you can take a quiz and win some prizes.
Flathead Audubon Society will also premiere "Birds Rock," "Bird Trouble," and "Bird Help," - three entertaining short films produced by FAS during the COVID hiatus. Beth Watne and Wild Wings Recovery Center volunteers will be outdoors with many rehabilitating birds. Fancy Face Design face painting will turn you and your kids into "raptors" for the day. Early Birders can go on guided bird hikes at 8 a.m., 9 a.m. and kids at 10 a.m. Binoculars provided. This continues a tradition started by the family of the late Rod Ash in 2006. Over 850 people participated and learned at the last Festival. NOTE: Parking is severely limited at Lone Pine Visitor Center, so a short walk from the parking along the entrance road may be necessary. No food or drinks provided. BYO bottles for refill at our cold water station. Visit: flatheadaudubon.org for more information, or call 406-260-6443, 406-544-0385 or 406 -249-3987.
These programs are free and open to the public.