Local State Farm agents make donation to Chief Cliff Fire Department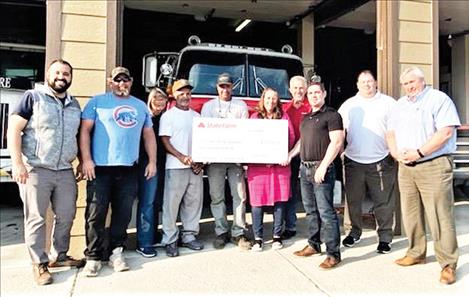 News and photo from State Farm
POLSON — The cost of a wildfire like the recent Elmo Fire can be devastating to a community and an already stretched thin fire department. That helps explains why the Chief Cliff Fire Service Area Department took to social media requesting donations to help feed and provide support to the firefighters in the front lines battling the Elmo Fire.
Wildfires across the west and northwest have provided plenty of data for insurance agents to know costs incurred by fire departments don't stop at supporting those putting their lives on the line. When local State Farm agents in Flathead, Lake, and Lincoln counties became aware of the call for donations they decided to work together to maximize their support. Agents worked with State Farm to leverage community funds, grants, and included personal donations to help raise $15,000 for the Chief Cliff Fire Service Area to assist with the fire effort.
"The Chief Cliff Volunteer Fire Department worked tirelessly for weeks to battle this blaze," said Kalispell agent Matt Downing, who helped spearhead the effort. "We wanted to show our appreciation for those who put themselves in harm's way to protect our communities."
Ten agents who made personal donations and participated in the effort are:
Jeff Andrews (Polson)
Matt Downing (Kalispell)
Sandy Goode-Long (Kalispell)
Jeremy Hicks (Kalispell)
Lyle Mitchell (Columbia Falls)
Tim Murphy (Whitefish)
Dan Schneller (Kalispell)
Jon Shaw (Kalispell)
TJ Wendt (Kalispell)
Theresa Wilson (Libby)
The Chief Cliff Volunteer Fire Department, located in Elmo, provides fire protection and emergency response services to the Elmo community. The Fire Department's mission is to prevent the loss of life and property. The Chief Cliff Volunteer Fire Department also responds to medical emergencies, motor vehicle accidents, rescue calls, and incidents involving hazardous materials.