Governor, DPHHS honors Montana centenarians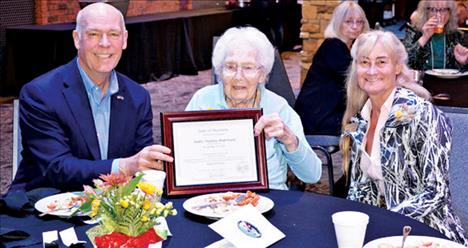 News from DPHHS
BUTTE — Montana Centenarians were honored in Butte at the Copper King Hotel and Convention Center during a special luncheon on Oct. 4.
The luncheon was part of the 53rd annual Governor's Conference on Aging with the theme "Rock Your Age: Communities of Strength."
The Centenarians who responded to DPHHS include those who are or will turn age 100 by the end of 2022. The list includes:
1 106-year-old
1 104-year-old
1 103-year-old
2 102-year-olds
4 101-year-olds
23 100-year-olds
Here are some of the Centenarian responses:
Patricia Erickson, age 101, lives in Kalispell. Erickson was born in Whitefish and she raised her five children in Montana. She loves to hike and walk in the mountains. She says her secret to longevity is to have a great sense of humor, hard work and a great outlook on life.
Sigfrid Ostby, age 103 lives in Homestead. Ostby said her secret to longevity is staying busy. Some of her favorite quotes are: "You get what you expect," and "You play the cards you're dealt."
Clifford Gangstad, age 100 lives in Billings. Clifford was born on the family farm without a doctor. When he was born, his father came outside and told his two brothers and two sisters: "It's a boy, and it's a big one." His greatest accomplishment was that he loved his family farm so much he grew up to own it.
Helen Meyer, age 100, lives in Anaconda. Meyer's secret to longevity is never skip a meal, exercise and stay active. The most amazing event in her life was growing up on the farm. She said there was no running water to the house. She remembers long rides to town in the horse and buggy which were two to three hours one way. She is happy with her claim to fame of turning age 100.
John Morgan, age 101, lives in Missoula. Morgan explains his secret to longevity is good food, good work etiquette, getting outdoors to fish, hunt and trap, helping family, and being a non-smoker. His favorite quote is: "If it isn't broke, don't fix it!"
Mickael Tieg, age 106, lives in Lebo. When Mickael was younger, the Lebo Post Office was operated out of the family home. He was the eighth of 11 children and all were born on the family farm. When he was 100, he taught himself to play the violin.
Additional conference information can be found at: https://dphhs.mt.gov/sltc/aging/GovernorsConferenceonAging