Grief training brings support to the Flathead Valley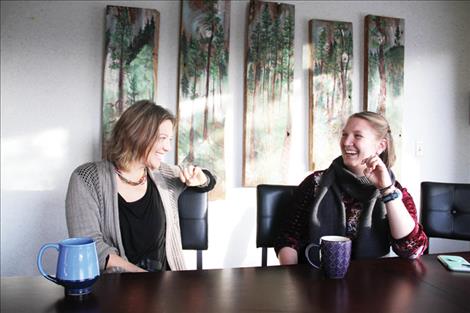 ST. IGNATIUS — Tribal Health recently invited nonprofit Tamarack Grief Resource to bring grief education and resources into the Flathead Valley.
Tamarack, which has its primary office in Missoula with another location in Kalispell and a remote office in Browning, is the only year-round comprehensive grief center in the state of Montana. While they can't be everywhere at once, the organization prioritizes education and training to support the entire state of Montana, including Lake County.
"A huge piece of what Tamarack does is extend the network of care, to not be the ones that are providing grief support but ask how are we part of a circle of healers and how do we strengthen one another," Executive Director Tina Barrett explained. "It's part of our repertoire of how we can engage in the world and so as we're invited into different circles of community members and professionals that want to have these conversations, we jump at those opportunities."
The training with Tribal Health, held on Feb. 8, had a focus on grief education, which Barrett explained tackles a few main things: Workplace wellness asks how are we compassionate in workplaces and how are we encouraging compassionate leadership that honors grief experiences, especially after the last couple years of the pandemic that's rocked so many. Exploring how to shift from supporting an individual to supporting a group and how to structure groups to honor loss is another key lesson, as well as examining how to set up rituals to honor the significance of an event and create room to transform the energy related to an experience.
This was not the first time the two entities have partnered up to work on providing grief education and resources to members of the valley. They held a similar training approximately two years ago.
The two parties are now examining an ongoing partnership to bring mini camps to kids dealing with grief in Lake County. Mini camps are typically a three-hour afterschool program of grief support to assist kids day-to-day and is sometimes partnered with schools to utilize school counselors. "We strive to partner with local resources who know the community who can illuminate the strengths that bring cultural relevance to the table across what we're doing," Barrett stated. Tamarack also offers day and overnight camps in the summer, including A Camp to Remember, which is held at Flathead, Georgetown, or Seeley Lake each year.
Based off the International Association of Trauma's tri-phasic model, Tamarack's support options all focus on grounding the grieving and focus on emotional and physical safety before moving into processing and integration. "(Grief) isn't something you're going to get over. You're not broken. You're going to carry it with you," Barrett explained. "How would you like to honor this relationship as you continue to move through the world?"
No two people will face grief exactly the same, but Barrett did have some broad strokes advice for those grieving:
— Give yourself permission to grieve in your own way. As explored by nationally recognized grief expert Darcie Sims, there are many ways to grieve. "Some people gain strength from reading and researching and understanding how others' paths have been, some people gain strength from social gatherings, some people gain strength from rituals, and some people gain strength from compartmentalizing the grief and continuing to go through the motions of a day and following a structure and schedule. It doesn't mean they're not grieving, it means it looks different than it might for someone else," Barrett explained.
— Think about the people that give you the most strength and deliberately reach out to them, or give yourself permission to create boundaries with those that aren't giving you strength. "I think many people have great intention, but sometimes how other people speak, or wrap words around their experience, or express their care, cannot always be strengthening," Barrett said.
— Be gentle with yourself.
And for those offering support to those that are grieving, the biggest key is listening and finding out the ways that person needs to be shown you care and how they can be brought strength, Barrett explained. "We in Montana can have some pressure to be fiercely independent and I think there's a beauty that comes from community … many of us realize the gift of getting to be there for someone else. So, in reaching out for help, we're extending that opportunity for people to engage with us and support us in the way that we would be honored to be invited to support someone."
Additionally, Barrett emphasized that caretakers should not be afraid to ask for help themselves from others equipped to deal with grief. Barrett said, "Everyone that's committed to be part of a healing community, when it feels like too much – which it will sometimes, … who can we reach out to? Who can we resource out to, who can we turn to, to be the provider of strength and hope during a time when that's not what we're able to do?"
Tamarack offers a wide variety of support and education programs, individual grief counseling and group programs, along with suicide loss support. Many programs are virtual to extend service to rural and distant parts of the state. As a nonprofit, they operate off the generosity of community members and emphasize that a gift of any amount at all is helpful. There are many ways to contribute besides monetarily, such as making quilts for those participating in camps and retreats and similar in-kind contributions. "We're so grateful to have a community that makes this possible," Barrett commented. "It warms our hearts and helps us do what we do … It's reassuring and inspiring for us to look around the circle and see all these people that are invested in creating compassionate communities."
Those interested in setting up training or education with Tamarack, no matter the size of the group or organization, are invited to do so by calling 406-541-8472 or going online to: www.tamarackgrc.org. "It starts with a phone call to explore what your hopes or goals are for this time together and how might we be a part of that," Barrett said. "If we're supporting one person at a time, we see that here at Tamarack as well, we can support 80 or 100 individuals, but if we're supporting groups of people, we can support thousands."