As ski area celebrates 75 years, Whitefish looks to future amid changing climate
cientists warn Whitefish Mountain Resort's ski season could be cut in half by 2050.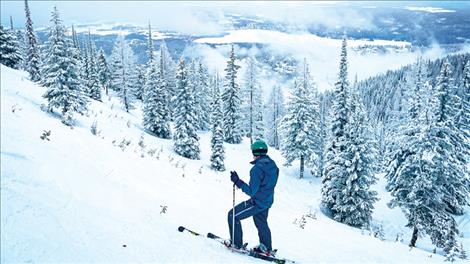 WHITEFISH — This weekend, skiers and riders on Whitefish's Big Mountain were whooping and hollering as they plowed through deep powder during one of the rare instances where a significant winter storm overlapped with a long weekend when lots of people were planning to hit the slopes anyway. As Whitefish Mountain Resort's snow reporter stated Sunday morning: "We all dream about days like this!"
But a new documentary produced by Explore Whitefish, in coordination with the resort and nonprofit Protect Our Winters, says such powder days could become even more sparse in the decades ahead because of climate change.
The short film, called "75 Years," was released in conjunction with the resort's diamond jubilee, which is being celebrated this winter. It features interviews with Whitefish Mayor John Muhlfeld, retired United States Geological Survey scientist Dan Fagre, three-time local Olympian Maggie Voisin and others. It's Fagre — perhaps best known for his photography documenting the retreat of glaciers in nearby Glacier National Park — who delivers some of the most sobering statistics about the future of snow in Whitefish and other ski towns.
"Seventy-five years in the future, winter will look very different here unless we take pretty immediate and pretty serious action," Fagre says.
According to a 2017 study, most ski areas in the United States will see the number of days they are able to operate reduced by 50% by 2050, and 80% by 2090. At Whitefish Mountain, which currently is open an average of 120 days every winter, that would mean being open for 56 days by 2050 and just 14 days by 2090. As Fagre solemnly notes, that's not long enough for a ski area to remain economically viable.
Explore Whitefish — the community's visitor and convention bureau — and Whitefish Mountain Resort first teamed up with Protect Our Winters, a nonprofit dedicated to raising awareness about climate change, in 2022. The partnership came about following the realization that climate change could have a major impact on Whitefish's tourism-reliant economy, especially as fire seasons get worse and winters get warmer. The documentary is one of the first products to result from the partnership.
The film was written and directed by Brian Schott, Dan Hansen and Justin Kauffman. Schott, spokesperson for Explore Whitefish, said the team spent about a year working on the project. He said he hopes the film raises awareness not only about the impacts climate change will have on the community, but also on what Whitefish is doing to try to shape its future.
"It's a powerful message that if we don't make changes now, the outlook for winter in the future looks pretty sad," Schott said. "This film is the first small step toward hopefully having a wider conversation about climate change in the community, and hopefully those discussions will spur action."
In 2018, the city of Whitefish passed a climate action plan that encourages local residents and businesses to reduce their carbon footprints. The city has also worked to ensure its buildings are energy efficient through the use of high-efficiency heating and cooling systems and converting its streetlights to LED bulbs.
Up on the mountain, Whitefish Mountain Resort CEO Nick Polumbus said his organization is also doing what it can to be a good steward of the environment and climate. Among the biggest initiatives in recent years has been becoming the nation's first "Whitebark Pine Friendly Ski Area." Whitebark pine is integral to the alpine ecosystem, supporting dozens of other plants, insects and wildlife. At one time, huge swaths of the Flathead National Forest were covered by the tree, but in recent decades it has teetered on the brink of extinction in the area as a result of fungal infections. One of the biggest remaining stands of pine is near the summit of Big Mountain. A few years ago, the resort planted dozens of white pines in hopes of strengthening the population.
But Polumbus said the ski area is doing other things too, such as asking visitors and staff to recycle more and encouraging more people to carpool or take the "Snow Bus" from town.
Polumbus said there is no doubt that climate change and its impact on the ski industry will be one of the biggest challenges the resort faces in the coming decades. Already, he said, people are noticing a difference in winters when compared to years past. For example, in recent years, the resort seems to have gotten more snow later in the season, rather than consistently throughout the winter, he said.
While Whitefish Mountain has been focused on celebrating its 75th anniversary, Polumbus said he's hopeful that efforts like the new documentary will drive the point home that the resort is taking environmental stewardship seriously.
"I hope the message people take from this is that we're paying attention to this and that we don't have our heads in the sand," he said.