Matt sentenced for assault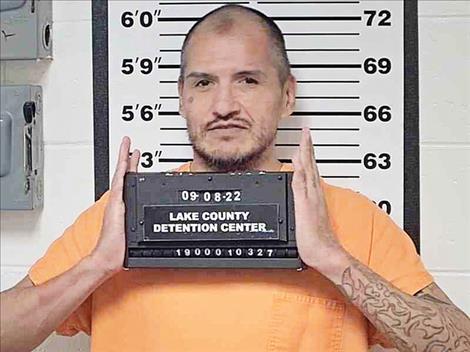 POLSON — A Ronan man was sentenced in Polson District Court on April 5 to the Montana State Prison for 24 years on one count of assault on a peace or judicial officer with no time suspended. Darrin William Matt, 46, was convicted by a 12-person jury during an earlier trial. The jury deliberated for approximately 15 minutes before reaching the guilty verdict. The prosecutor had video recording of Matt kicking a detention officer in face. The strike hit the officer's face with enough force to make an audible sound of the officer's head snapping back, causing pain. Although a 24-year prison term is well beyond the average 4.6 year prison term on a such a conviction, it was Matt's overall criminal history that determined his sentence. The 4.6-year average prison term for assault on a peace or judicial officer was a statistic from the Montana Department of Corrections, quoted by Matt's public defender Colton Risinger in arguing for a lesser term.
Prosecutor Brendan McQuillan with the Lake County Attorney's Office told the court that though Matt had been to state sponsored treatment and attended various rehabilitation programs, Matt continues to commit crimes and take drugs. McQuillan outlined Matt's 30-year criminal history, including six misdemeanor convictions and three felony convictions. He explained to the court that the 24-year prison term would allow for Matt to eligible for parole in six years.
In the end, Judge Molly Owen agreed, saying "Taking this case to trial was a waste of the court's time." Matt was given credit for having already served 210 days in jail.
Matt had to be restrained by three armed guards as he was led out of the courtroom verbally stating his opinion that his stiff punishment was motivated because, in his words, "I'm Indian."