State attorney reviews draft documents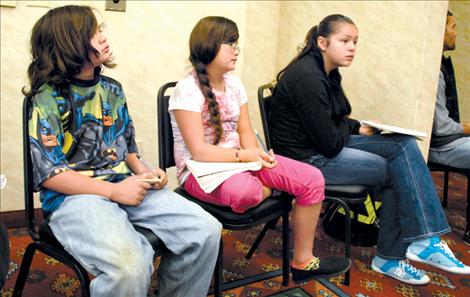 POLSON — The negotiating teams for the Confederated Salish and Kootenai Tribes, the State of Montana Reserved Water Rights Compact Commission and the United States met on Oct. 1. The teams are working towards presenting a compact to the Montana Legislature in January.
With that date looming and drafts of the water rights compact and ordinance almost completed, recent meetings have been crowded with interested people.
RWRCC staff attorney Jay Weiner presented an in-depth overview and review of the drafts of the compact and ordinance. There are three gaps in the draft, Weiner said. They are: protection for irrigators who are on streams not covered by the Flathead Indian Irrigation Program; 24 irrigators and their rights on the Little Bitterroot; and the use of 11,000 acre feet of water from Hungry Horse Dam.
The two main parts of the draft agreement are Article 2, the quantification of the CSKT's water rights and Article 4, exercising administration of those rights, Weiner said.
The proposed compact is unique in that it provides for a unitary management board and reserving tribal claims to off-reservation water.
As proposed, the unitary management board will consist of two members appointed by the CSKT Tribal Council and two members appointed by the governor of Montana. A fifth member of the board will be chosen by the other four. The United States has proposed a non-voting member, but that is still under negotiation. A quorum would need four members. For the board to pass a motion, three members must vote yes.
"Everyone goes equally before the board," Weiner added.
There is also a built-in appeal process.
The Flathead Indian Irrigation Project water use agreement concerns the exercise and administration of both the FFIP water rights and the instream flow rights for streams used by the irrigation project. The CSKT, the Flathead Joint Board of Control and the United States are still working on the agreement and are accepting comments. The water use agreement is envisioned as critical protection for existing users on the FIIP.
The draft documents are available on the CSKT website at www.cskt.org website or on the Reserved Water Rights Compact Commission. website
The next negotiation meeting will be on Oct. 24 at 9 a.m. in CSKT Tribal Council Chambers in Pablo. On the evening of Oct. 23, there will a public information meeting on the water rights negotiations at the Ronan Community Center at 7 p.m.