Haynes takes plea agreement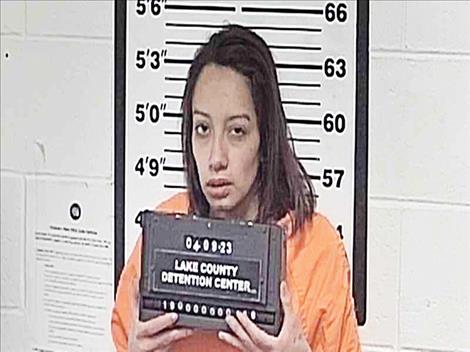 POLSON — A St. Ignatius woman entered into a plea agreement in Polson District Court on April 20 that will resolve five separate cases against her. Quianna Leigh Haynes, 22, pleaded guilty to three counts of burglary and one count of bail jumping. She had already pleaded guilty to a fourth burglary charge. The plea agreement calls for a commitment to the Montana Department of Corrections for a total of 15 years with 10 years suspended. It also recommends placement in a state run treatment center.
According to court records, on Feb. 20 a man called law enforcement to report his granddaughter had broken into his garage, then used a maul to break into a cabinet and took $6,400 in cash. Images of the incident were captured on surveillance cameras. On March 13, the owner of a funeral home in St. Ignatius called law enforcement regarding a burglary to his business. He indicated that he discovered his office was "ransacked" and checks were taken. He also said that it was broken into again on March 12 and someone left a dog in the business. Surveillance at a local grocery store linked Haynes to the stolen check from the funeral home. On March 15, another relative of Haynes' reported her home had been broken and items were taken. Haynes was linked to this burglary via surveillance cameras.
Haynes had been convicted of a burglary that occurred at another relative's home on April 11, 2022. She was set to be sentenced for that burglary on Sept. 1, 2022 but failed to appear which led to the bail jumping charge.
Judge Deborah "Kim" Christopher set sentencing for June 8. Haynes remains in the Lake County with bail totaling $375,000.