New healing center opens in Polson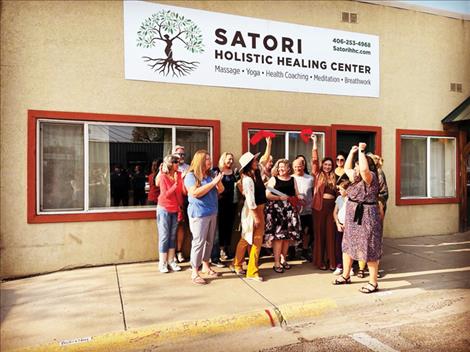 POLSON — Ladies Night in Polson's downtown also saw a ribbon cutting event for a unique new business in town: the Satori Holistic Healing Center.
"It went really well. I bought way too much food, but it was really good," laughed owner Brianna Seidel, as she spoke of the grand opening. Around 200 people came by to learn about the business, which Seidel said she's been working towards opening for some time.
"A healing center has been a dream of mine forever," Seidel explained. "I started about a year and a half ago really getting serious and looking for a space because I'd become a yoga instructor."
Seidel, a licensed massage therapist for the past 20 years, originally offered her services out of what's now the entryway of the Healing Center's location at 6 Third Ave. W. Prior to moving into the larger area, she worked from her original location for 18 years. "It was a huge undertaking … I had to do a lot of demolition and a lot of work to get (the building) to where it is now," Seidel said. "It was a big labor of love, but I'm so excited at where it is now and we get to enjoy it, and the community has just been giving me such amazing positive responses, so I'm really excited about it."
While massage and yoga aren't new to the area, several of Satori's offerings haven't been seen before in Polson. "I think all of it is kind of new," Seidel commented. "I think breathwork is very new to Polson … same with the sound healing, and the full moon and new moon women's circles."
The breathwork offered by Satori is something called Rebirthing Breathwork Mastery (RBM), which is described on the business' website as learning an awareness of the body to unravel anything in the way of achieving desires. Sound healing, performed by Bill Cael, with ancient Tibetan singing bowls, is described as using the vibration and frequency of a sound bath to heal. At least one of their offerings is Seidel's own creation, a yoga class that's a combination of gentle and restorative yoga as well as massage. "I love restorative (yoga). It's one of my absolute favorites because we are so busy throughout our day and we don't take that time to really slow down and just allow ourselves to listen to our bodies and to heal," Seidel said. "I started kind of synergizing (massage and yoga) and I practiced on my clients beforehand, and it's been really great."
The Healing Center will soon expand their catalog, including more traditional things like Zumba and dance classes. To see an entire list of their offerings and to learn more about the classes new to the area, visit: satorihhc.com
"We're just really excited to serve the community and to be able to offer so many different arrays of healing and types of things we just don't have offered in Polson," Seidel said.