Alexander claims divisional title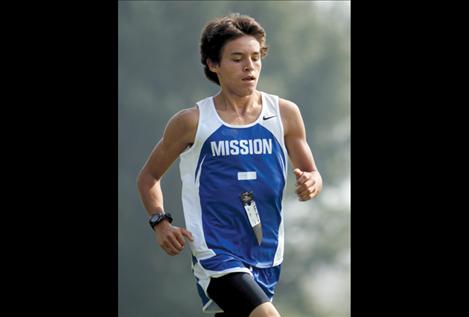 RONAN — It may come as no surprise to those who have been watching Mission's Paden Alexander this season, but the senior cross-country runner won the 6B-7B conference championship Saturday in a time of 15:56, smoking second-place Bigfork runner Logan Morley by 34 seconds.
Mission had eight boys and three girls run at the divisional meet, and
Karl Daniels and Ethan Goss-Dickie both ran season bests, Daniels with a 19:53 and Goss-Dickie with a 20:18.
Kaylie Durglo also ran her season best with a time of 23:14.
"It's great to see these athletes improve," coach Marc Cutler said. "We're looking forward to the state cross-country meet in Helena this Saturday, Oct. 20."
6B-7B Championships
Girls
Courtney Heath, 22.38
Kaylie Durglo, 23.14
Carley Elverud, 26.44
Boys
Paden Alexander, 15.56
Tate Weingart, 19.07
Nick Durglo, 19.19
Raymond Matt, 19.23
Jamie Mullins, 19.46
Karl Daniels, 19.53
Ethan Goss-Dickie, 20.18
Robbie Erickson, 22.58