Ronan Farmers Market sees growth spurt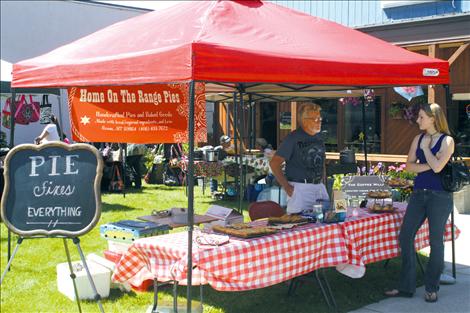 RONAN — For many residents, small farmers markets are an integral part of their lives and livelihoods. The opportunity to sell produce and other goods directly to customers allows producers to eliminate a costly middleman grocery or department store and facilitates growth within the community.
With this in mind, Ronan's Coffee Mill owner Sheina Sager helped take over Ronan's weekly Farmers Market last year, and it's done nothing but grow and prosper ever since.
"It just keeps growing and getting bigger and bigger," she said. "We're hoping it gets big enough that we'll be able to move out onto main street as well."
Sager said the event is designed to bring more people into downtown and get the local community and Main Street businesses more exposure.
Several residents perused the tables at the market, looking over the different kinds of food and goods available for purchase.
Ofelia Folsom, a vendor of what Sager called, "the best Mexican food in the valley," said the secret to her recipes is her mother, who makes everything from scratch.
"(The farmers market) has actually been really good," Folsom said. "They keep asking me to come back so I keep coming back."
Patron Sidnee Young stopped by every table, taking in the sights and smells of the market alongside her fellow shoppers.
"I check out the farmers market every other week," she said. "I think it's awesome all the different things they have."
"And I'll tell you what, you can't beat the pies out there," Sager added.
Home On the Range Pies, owned and operated by Rusty and Mary Carl, are in their fourth year at the Ronan Farmers Market.
"We attend this one, Arlee, Polson, Missoula and every other week we go to Livingston," Rusty said. "It's worked out pretty well."
Rusty said that his wife Mary, who has a masters degree in communications, was laid off from her job about four and a half years ago after her company went out of business.
In a dismal economy and suddenly losing their biggest source of income, the couple was strapped for cash. Rusty said the pair had always been strong opponents of big government, believing that hard work and less government assistance was what was needed. Having suddenly lost much of their income, Rusty said he and Mary were suddenly in the same boat as many in the country during the Great Recession.
"All of a sudden, instead of pointing fingers at someone else, we had three pointing back out ourselves," he said.
One day, Mary's sister began talking about the Livingston Farmers Market and how there was a woman there selling pies. Mary's pies, however, were much better.
"Literally, Mary's sister said, 'It's time to get off your butt and start doing something,' so we did," he said. "It was rough going at first, but she makes everything from scratch and the prices are higher than everyone else's, but we decided that we were shooting for quality over quantity."
Rusty said the hard work paid off, and early last summer he told his wife to stop looking for a job — the pie business was now their primary focus. At some of the bigger weekends, Rusty said the pair can sell more than 150 tarts alone.
"We live in Ronan and live about a mile from here, so that's one of the reasons we really like to support this farmers market," he said.