Big Arm teen to attend engineering seminar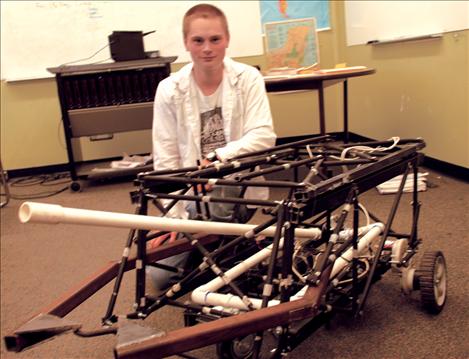 BIG ARM — A check for $1,200 came in the mail made out to Cash Sisler, and his parents Matt and Julie knew nothing about the check or what it was for.
Turns out Cash, a junior at Polson High School, had applied for and received a scholarship from the American Society for American Military Engineers to attend a summer seminar at the Air Force Academy.
Cash was specifically sponsored by a group out of Malmstrom Air Force Base, Great Falls. After finding out Cash was interested, a retired Air Force engineer sent out the word and Cash received eight or nine emails on how to apply. He said the military is looking for engineers right now.
"They gave me a full ride, paid for airfare and the camp registration," Cash said.
The camp will be held at the Air Force Academy from June 27 to July 3.
"We'll learn about different engineering feats," Cash said, including wastewater engineering and concrete beams.
After high school Cash wants to attend Air Force Academy in Colorado Springs, Colo., and become a mechanical engineer.
He credited Tamara Fisher, gifted and talented teacher for the Polson School District, with giving him opportunities to explore his interests.
As far as how Cash got interested in engineering, "that goes back to when my parents had me playing with blocks," he said.