Humans impact bear behavior, survival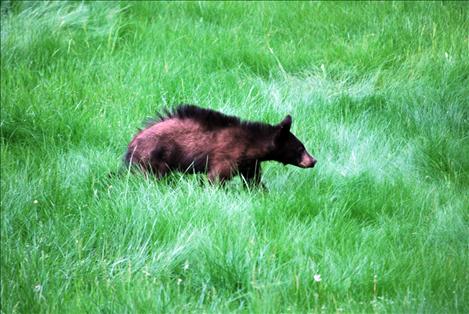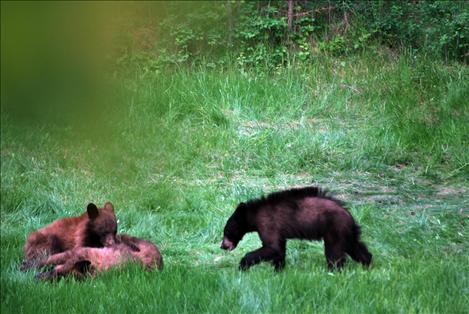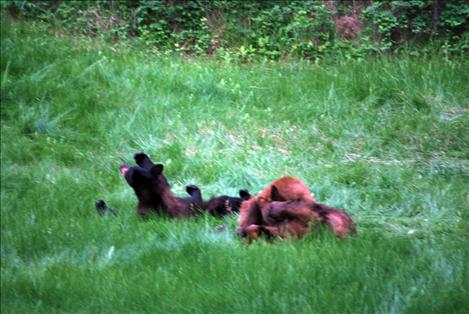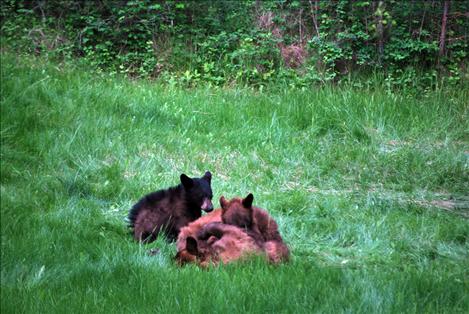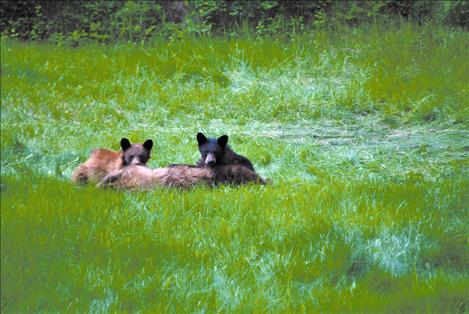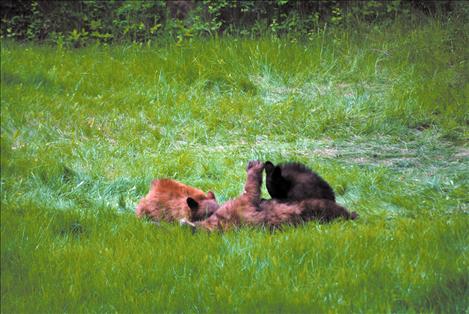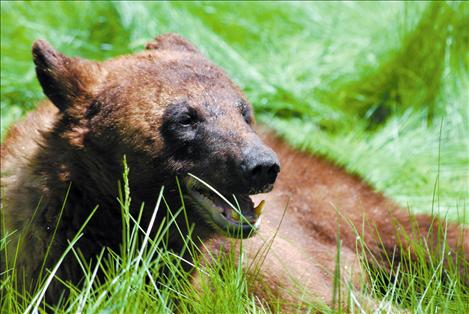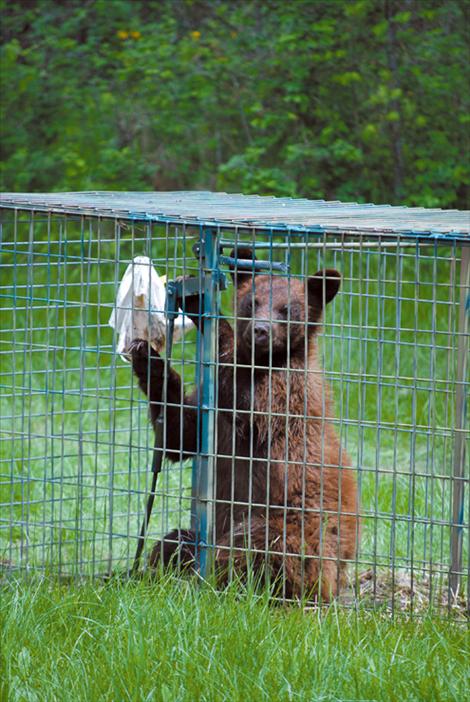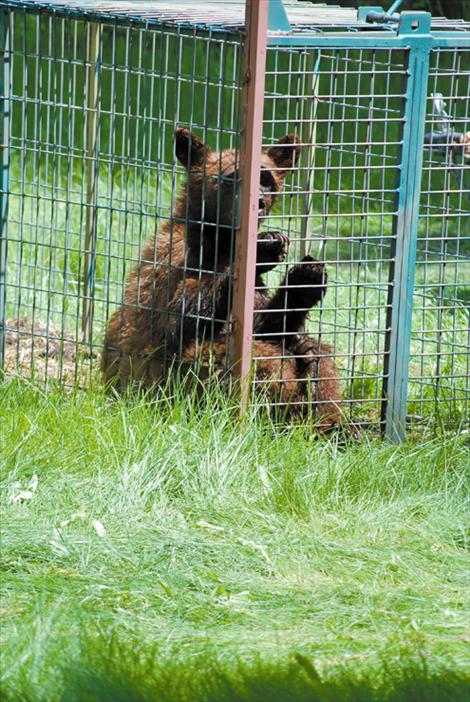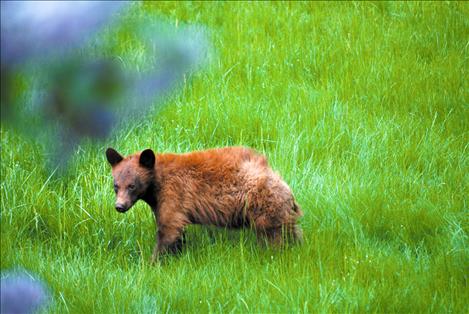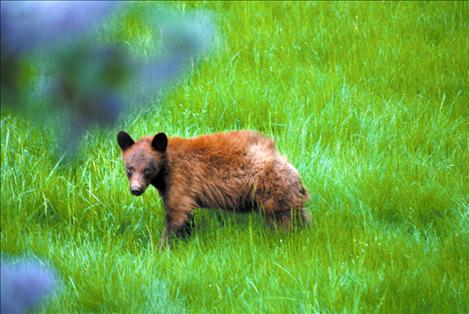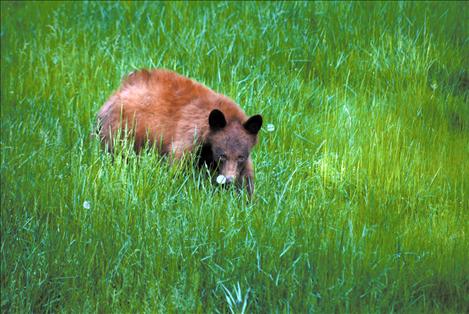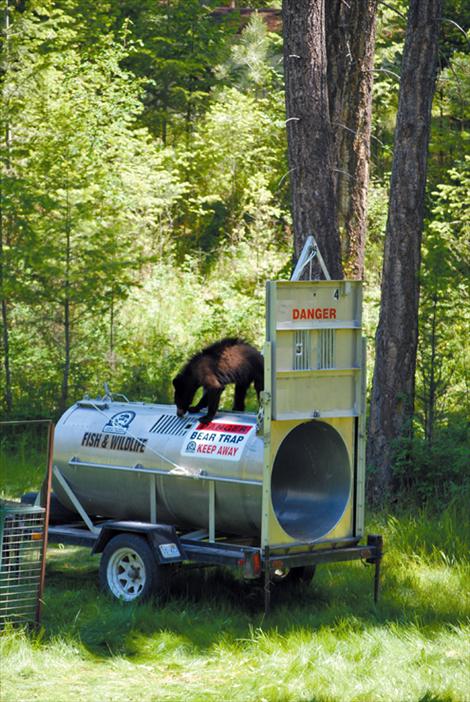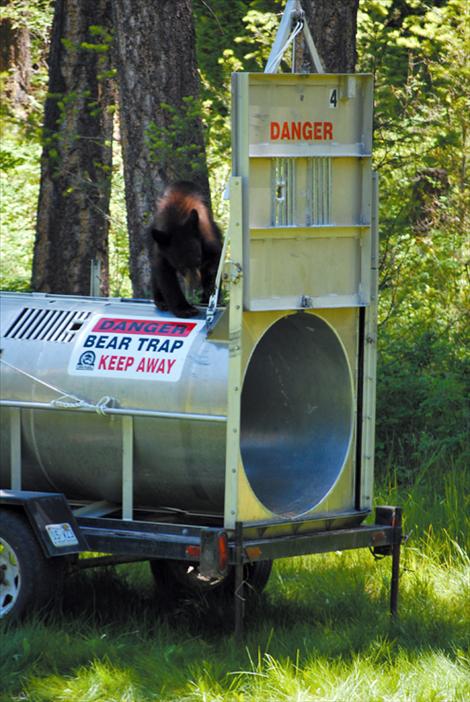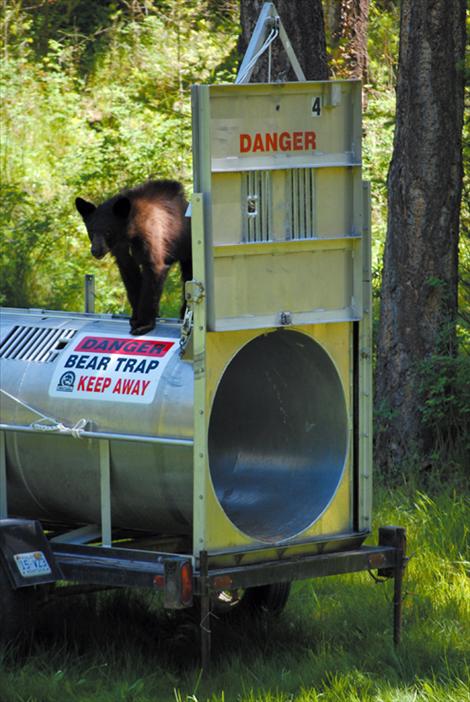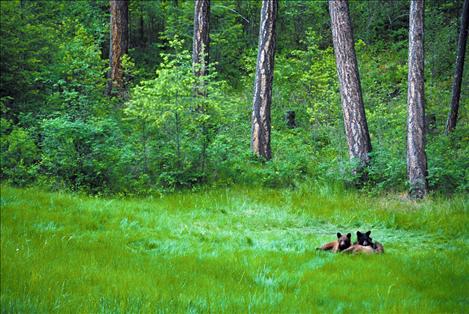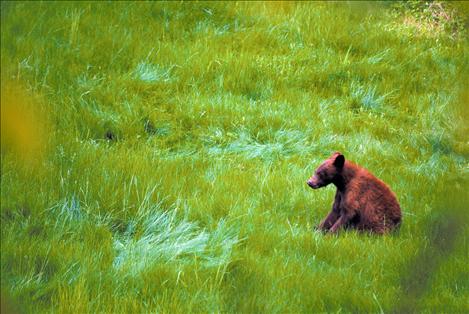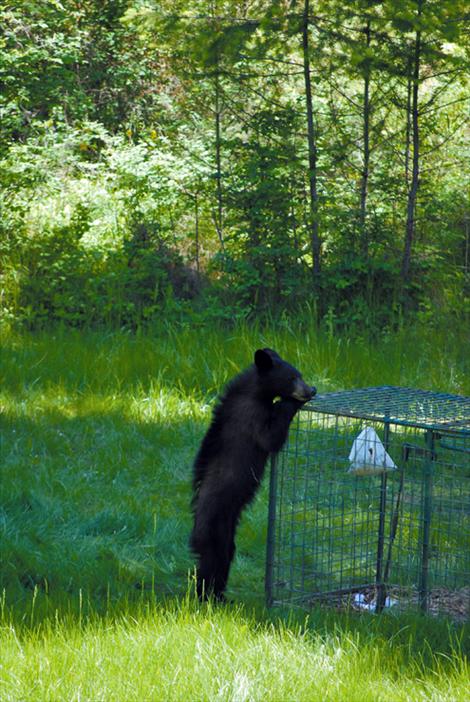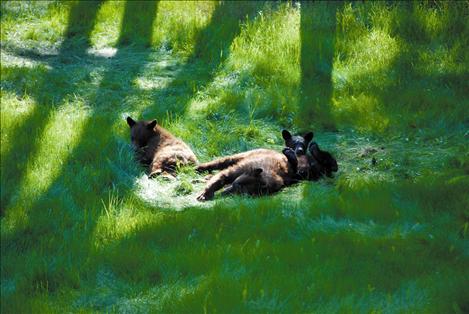 ‹
›
FINLEY POINT — Archie Fuqua, Sergeant for Tribal Fish and Game, answered a call on South Finley Point Sunday morning in response to an injured mother bear and her two healthy year-old cubs who were nestled near the forest in a residential back yard. This was his third bear call of the morning.
"We come across injured animals every day," Fuqua said as he assessed the situation from the top of the hill. "Nature isn't always pretty; it has its way of taking its course."
Fuqua said that the mother bear was most likely hit by a car on Finley Point, and that bears cross back and forth over the roads frequently, especially at night.
"It's obviously a broken back. Nobody can cure it, nobody can fix it," he said. "We are trying to do the right thing, and we are working with some really tough circumstances. I can't heal that bear. I can't carry these babies, they're going to have to carry themselves."
The sow was very protective of her cubs; however, her hindquarters were severely injured. She pulled herself toward the cubs with her front paws at any sight of danger and with all the energy she had left, drug her back legs behind her in the grass.
Willie Burke, fellow Fish and Game Warden and Fuqua returned with large traps to place as close to the mother as they could. The traps were lined with hay and set with bait to draw the bear cubs inside.
"The best chance they have at being wild bears is what we're going to do for them. We're going to haul them way back in the wilderness and turn them loose together. This time of year they should make it," Fuqua said.
When asked what he was going to do with the mother, Fuqua said that she would probably have to be put down. For the cubs' sake, he wanted them to be close to her and let her lie there for a while, and after they were trapped he said he would take care of her.
According to Fuqua, Tribal Fish and Game does not carry tranquilization darts, largely due to a lack of funding. He said sedation or tranquilization of injured wildlife would require a biologist be present, and that it was unlikely to happen on a Sunday.
Fuqua explained that tranquilization would mean they would have to poison the bear before killing it, and that they would not be able to release the bear into the wild because other predators might ingest the same poison.
Tribal policy is to put down the injured animal and return it to the wild so the cycle of life continues. The death creates food for other wild predators and scavengers.
Germaine White, Tribal Fish and Game spokesperson said, "If we do a lethal injection it creates a whole cascade of deaths. It introduces very serious narcotics into the whole chain of animal life."
Returning the animal to the environment "where nature would naturally have it die," Fuqua said, is the way it's done. "We are wildlife professionals. That's what everybody does. We have to handle this as quickly and humanely as possible, and do what needs to be done."
Depending on how old the cubs are and how reliant they are on their mother, yearling cubs would not survive on their own unless they could fend for themselves. They are often cut loose from the mother the second spring.
Fuqua said he thought the two cubs looked healthy, and that they would do well when he and Burke let them loose deep into the northwestern region near Niarada.
The sow was shot and loaded onto a truck.
The two caged cubs were loaded with a hitch trailer system and all taken away together.
State Warden for Montana Fish and Wildlife Ron Howell said in regards to state policy and tribal policy, that "essentially it's the same and we work together to a common goal."
He said the state controls bear hunting differently through hunter harvest, and that non-tribal members cannot hunt bear on the reservation for population control.
"They are just coming out of dens looking for food. I'm sure she taught them to eat grass and other things I'm sure they'll do just fine since they're last year's cubs," said Howell.
Bears who are relocated are often done so by means of trapping and being set free, and cubs that are under a year old and not adapted to life outside the mother can be taken to a facility in Helena to habituate with another bear and not adjust to humans. Biologists can also determine whether it would be better to just put the young cubs down if they can't survive on their own.
"We relocate the young ones, but you have a decision to make: To let nature take its course or humanely put it down. A lot of times we'll leave them for a couple days to see what happens. It's a case by case basis but we deal with it the best we can," he said. "This year's cubs would go to Helena. Generally, Helena is probably full with cubs."
Tribal Fish and Game have a lot of bears and conflicts with people, explained Howell, and that they run around the reservation all day dealing with them.
"The tribe does everything they can to trap and relocate. It's important to keep the area safe, number one, and do our best to keep animals alive, but you have to do what is best. Deer, bear and elk, it's just where we live. Montana wild animals have encounters on the highway and get caught in fences and its just part of what we deal with," Howell said. "We see it all the time. Most people don't, so that's got to be tough."
According to the Confederated Salish and Kootenai Tribes newsletter, each year over 50 bears are trapped and relocated and many of these black bears have to be destroyed to protect the public.
Fuqua said that Tribal Fish and Game have taken several bears off Finley Point in the last ten years, and that a primary concern has remained bear habituation to human food. Bears' keen sense of smell drives them to food, and when handled improperly by people it becomes a problem.
"If a bear smells food they come to food. It's more of a people problem than a bear problem. If you start feeding them they're going to die. They start by getting habituated by people and a fed bear is a dead bear," said Fuqua.
Howell talked about how bear-proof garbage cans curb bear habituation to garbage and spills in general. Many Finley Point residents use them, and the Confederated Salish Kootenai Tribes have worked since 2012 to disperse these specialized garbage cans along the Mission Mountain front; the tribes have also worked alongside Allied Waste to make more bear-proof garbage containers available.
"Tribal Wildlife Program wrote a grant and secured funds for garbage containers, which were primarily targeted along creeks, as they are common travel corridors for bears," said White.
According to the CSKT newsletter, "As more people, and more garbage move into traditional bear habitat, more bears are becoming garbage conditioned and once that occurs, they typically have to be destroyed. It's a terrible waste of life. It's also very costly."
The key is to respect the bears and realize that this is the time of year they come out of the mountains looking for food, according to Gina Sievert, Finley Point resident.
Sievert talked about how important it was to implement certain precautionary measures to prevent bears from forming bad habits.
"I just feel like people need to take the precautions and be smart but realize that bears are going to be here, because every year they come down at this time. If you live here you should know that. Not taking precaution is what creates problem bears, and that's what gets them killed," she said.
"We've had bears rip up our hives in the past, and the best thing you can do is put up an electric fence because even if they barely touch it, it will be enough to deter them. You don't want them coming back and forming habits that can get them into trouble," Sievert said.
Howell agrees the number one concern includes garbage and other attractants.
"You've got to keep garbage put up," Howell said. "Finley Point tends to hold a lot of bears because of cherries. In the fall make sure all fruit is picked up and disposed of."
Cherries around the lake this time of year are among these attractants, and he explained that bears wait for huckleberries to show up like they're naturally supposed to.
Other bear attractants, according to CSKT's newsletter, include compost piles, game meat, gardens, bird feeders, people food, trash, pet food, fruit trees, beehives, wildlife feed mixes, livestock and poultry.
"Bears are fatally removed oftentimes because they have destroyed poultry, chickens. There are 6 billion chickens in the world and we are losing grizzly bears," said White.
She said that CSKT's primary educational focus has been to remind people to remove attractants.
The Tribal Division of Fish, Wildlife, Recreation and Conservation encourages people to "be responsible for garbage and other bear attractants to prevent problems from occurring in the first place."
The conservation process involves the promotion of awareness for people living in areas with wildlife, and that certain measures of prevention can help wildlife population, so long as people recognize that their efforts do make an impact.
"It's tough when wildlife comes in conflict with humans, and unfortunately, it seems like the animals seem to lose all the time," said Howell.
Montana Fish and Wildlife issues a press release every year with information on bears coming out of hibernation. Further information on wildlife conservation and prevention can be found by contacting Montana Fish and Wildlife, Tribal Fish and Game, Tribal Wildlife Fish and Wildlife Conservation, Tribal Wildlife Management Program.