Articles with the Tag: Big Arm State Park
Elmo Fire burns 10,000 acres, 0% contained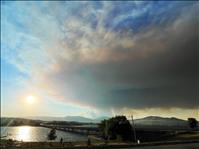 ELMO — As of Sunday, July 31, a wildland fire burning along Montana Hwy. 28 has burned more than 10,923 acres northwest of Elmo. The Elmo Fire was discovered Friday, July 29 at 6:30 p.m. in the Big Draw north of Hwy. 28. An evacuation order was issued for Chief Cliff estates (about three dozen homes...
Body found at Big Arm State Park, information requested
BIG ARM — As an unidentified person was walking a dog in the Big Arm State Park, they discovered a decomposing body along the path. Lake County Sheriff Don Bell said the person called Lake County 911 to report what they were seeing on Nov. 25 at about 4 p.m. "The caller r...