Lake County swears in new treasurer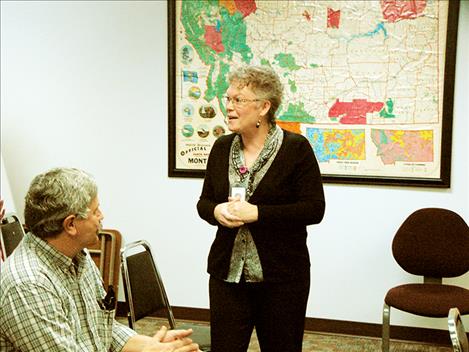 POLSON — Lake County has another treasurer.
Robin Vert-Rubel was sworn-in on Thursday, Feb. 1, replacing Tammy Gerrity, who stepped down for personal reasons.
Gerrity was appointed on Aug. 1 last year to replace Patti Duford-Kugler, who resigned after 12 years in the position. Gerrity remains on staff with the treasurer's office.
Vert-Rubel, a fourth generation Montanan, said she will serve the remainder of the term, which expires Dec. 31. She is running for the office and already filed as a Republican in the June 5 primary.
Vert-Rubel has worked as the county's chief deputy treasurer for 4½ years.
She has been a co-owner of Mission Valley Auto since 1998. The business was formerly a General Motors dealer but now does auto repair and sells used vehicles, boats and other things.
"I love what I'm doing," she said, noting she handles all of the county's finances and has a bachelor's degree in accounting. "I've done accounting and finance for 40 years."
She oversees seven employees in three county offices: motor vehicle, tax and bookkeeping.