Lake County Density Map discussed, public hearing set for March 13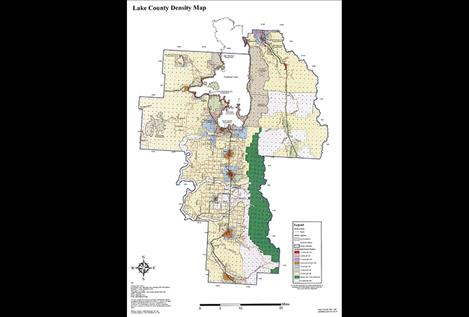 POLSON — It may not have been a sweet deal, but the Lake County Planning Board and 15 community members met the evening of Feb. 14 during a snowstorm.
The Planning Board — which is in the process of writing a new growth policy to update one approved in 2003 — took public comment on the county commissioners' plan to make the density map and regulations advisory rather than regulatory. Following that, the board held a lengthy discussion and then voted 5-3 to proceed with wording that gives them three options for the density map: repeal it, amend it and keep it as regulatory or amend it and make it advisory as part of the growth policy. In approving that measure, the board declined to take up wording suggested by the county commissioners to make the density map advisory.
Ten people spoke during public comment and eight were in favor of keeping the density map regulatory.
Jordan Thompson, an attorney representing the Confederated Salish and Kootenai Tribes, said he doesn't know if there's evidence that the density map and regulations haven't worked. "If there's evidence that the DMRs haven't worked in certain areas, that's not a cause to weaken it, that's a cause to strengthen it," he said.
"Our challenge is loss of revenue due to lands being put in trust," Commissioner Gale Decker said. "How can I say we have this problem and support regulations that facilitate that process?" Decker later said he was referring to statements Planning Board member and CSKT Planning Director Janet Camel made in the past about the tribes wanting to buy back land and preferring that it not be subdivided because subdividing land increases the sales price.
Camel made those comments during a July 8, 2015 Planning Board meeting when giving background about why she was appointed to the Planning Board. The tribes "needed somebody to stand up for them and explain to everyone else what they were concerned about," she said, as reflected in the minutes from that meeting.
Decker said the county recently received notice that some 5,000 additional acres of tribal land are being considered to be added to federal trust. The county's civil deputy attorney Wally Congdon later said that most of the land, which consists of three parcels, is located between Ravalli and Arlee.
David Passieri, a St. Ignatius realtor, said that Hobart Village, Wisconsin agreed to a covenant with the Oneida Tribe that restricts tax lands from being put into federal trust. "Why can't we do that?" he asked.
Although some have talked about the possibility that Lake County could fail financially, Arlee-area resident Leslie Van Stavern Millar had another definition for county failure, which she called failure to listen to the people. "I'm kind of angry. I thought we shut that down two years ago," she said, referring to an attempt to make the density map advisory. "As far as I'm concerned, (a regulatory density map) works because you look at the value of living here," she said.
CSKT Council Member Carole Langford said she had been busy talking to area residents and having them send the commissioners postcards.
"You're going to get more of these. I've worked my tail off the last couple of days getting them signed," she said. Decker had earlier referenced receiving 265 of the postcards, but he questioned their value saying that a person only had to sign a name because the cards were prepaid and pre-addressed.
Don Winston, a Jocko Canyon resident, said the one-house-per-40-acre zoning that currently exists in parts of the density map "really protects my land and its value. The reason we have such a beautiful county is because of the density map," he said.
"Advisory is fine if you've got good people, but some people get elected who shouldn't be," former Realtor Bob Stone said.
The commissioners are planning a public hearing on changes to the density map for 2 p.m. March 13. However, Camel said that public meeting has been scheduled prematurely. "It's irresponsible to move too quickly because it's not in the public's interest," she said.
Planning Board Member Frank Mutch said DMRs are not discussed in state statute. "Growth policy is discussed and it's advisory," he said.
Planning Board Chair Steve Rosso said that if the county makes the density map advisory, can't a developer challenge the density map in court as being arbitrary if a proposed development is denied? Decker replied, "Can't he say the same thing if it's regulatory?"
"I'm having a hard time understanding what we're trying to fix," Planning Board Member David Goss said. "We have a proposed solution in search of a problem," he said, referring to the plan to make the density map advisory.
Planning Board Member Abigail Feiler said it seems the county is saying it has lost property tax dollars as a result of the Selis Ksanka Qlispe Dam being put into federal trust, "so we're searching for dollars and encouraging growth." However, she said "there's such a landslide of people" asking that the DMRs stay regulatory. "Making it advisory opens a Pandora's box for things that are not allowed now for good reason," she said.
Handwriting on the wall?
On Friday afternoon, the commissioners decided that the Planning Board will issue its recommendation about the growth policy following a 7 p.m. March 14 public hearing. County Planning Director Jacob Feistner said the Planning Board will be considering the third draft of the growth policy, which he noted will contain an advisory density map and text with no regulations.
New subdivision for RVs?
Also at the March 14 meeting, the Planning Board will consider a proposed 60-lot subdivision to be completed in five phases on a 20-acre property located west of Big Arm in a field south of the Big Arm Fire Hall. The proposal by Carstens & Associates for Lori Lundeen will be for RV spaces of 4,500 to 5,339 square feet. The Planning Board will hold an informational meeting about the proposed Wild Horse RV Resort at the March 14 meeting and a public hearing will be held in April. Feistner said the proposed development is located in a community development area covered by the density map and is not a part of a zoning district.