Rossbach sentenced for assaulting a police officer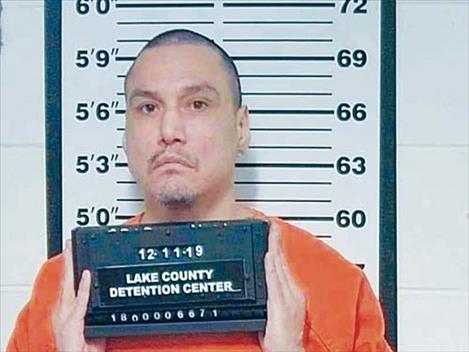 For killing his passenger in a drunk-driving crash, a Ronan man has accepted a plea agreement that could result in a 15-year sentence to the Montana Department of Corrections with half of that time suspended.
Brayden A'twen Cutfinger, 21, pleaded guilty at District Court in Polson on April 2 to the amended charges of negligent homicide and criminal endangerment. The guilty plea includes the joint recommendation of 10 years at the DOC with five years suspended for negligent homicide and five years, two-and-a-half years suspended, for criminal endangerment.
According to court records, on May 8, 2019, Montana Highway Patrol Trooper Zach Miller was called out to a fatal car wreck on Hillside Road near Two Creek Lane. At the scene, Miller discovered a wrecked silver Bonneville Pontiac and a deceased person who was covered with a blanket. The victim was later identified as Tania Oldhorn, 30.
Miller's investigation shows the vehicle struck a fence and a tree before coming to a stop. Cutfinger initially denied being the driver or being intoxicated. After a lengthy investigation, he admitted to both allegations. Cutfinger remains incarcerated with bail set at $50,000. District Judge Deborah "Kim" Christopher set sentencing for May 28.
For assaulting a Confederated Salish and Kootenai Tribal Police officer, a St. Ignatius man was sentenced by District Court Judge James Manley in Polson on April 1 to the Montana State Prison for 14 years with no time suspended. Manley added a parole restriction of 10 years.
William G. Rossbach, 43, was convicted by a Lake County jury in February of assault on a peace officer. His trial began the morning of Feb. 5. Closing arguments were heard the following morning and the jury reached the guilty verdict before noon.
It was the second time the case went to a jury trial because the first ended in a mistrial in December of 2019.
Lake County Attorney Steve Eschenbacher prosecuted the case. Rossbach was represented by Alisha Backus with the Public Defenders Office in Kalispell.
The charge stems from an incident on May 15, 2019, when Rossbach was seen riding a stolen bike. Rossbach fled from a Confederated Salish and Kootenai tribal officer. The officer, T. J. Haynes, followed Rossbach who had attempted to hide behind a bush. Officer Haynes drew his Taser and ordered Rossbach to come out with his hands up. Rossbach said, "F*** you, T. J. I'm not going to jail."
Rossbach did come out from behind the bushes but didn't put his hands up so the officer used his Taser. Rossbach, who was in possession of a knife, seemed to be unaffected and pulled the probes out and started to walk away. As Haynes approached him, Rossbach threw the knife on the ground and began swinging his fists at Officer Haynes, hitting him on the right side of his head. Rossbach declared that he knew what he was doing was a felony but continued punching Haynes. Haynes was able to detain Rossbach, but it took the aid of two witnesses to get Rossbach into handcuffs.