Man awaits trial for strangulation, theft charges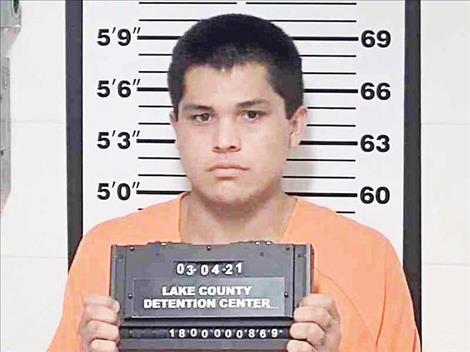 Larrs Jalen Omingo, 20, of St. Ignatius, entered a plea of not guilty at District Court in Polson, on March 17, to felony strangulation of a partner or family member and theft.
According to court records, on March 4, Confederated Salish and Kootenai Tribal Police responded to the St. Ignatius area concerning a report that a female had been assaulted and her vehicle stolen.
At the scene, the alleged victim told the responding officer that her boyfriend, Omingo, strangled her and threatened to "do something to her grandmother" if she didn't give him control of her car. He allegedly squeezed her throat hard enough that she could not breathe while issuing the threat.
Court records also show that Omingo was already on probation, stemming from two separate criminal matters. In one case, he was charged with two counts of assault with a weapon for pointing a gun at people. The second case involved an assault on a peace officer and drug possession charges.
Both cases were resolved by way of a plea agreement that resulted in a two-year commitment to the Montana Department of Corrections for assaulting the officer and sentencing being deferred for three years on one count of assault with a weapon. All other charges were dismissed.
District Judge James Manley set a trial date of Aug. 16. Omingo remains in the Lake County jail with bail set at $75,000, according to the jail roster.