Area VI Agency on Aging expands service area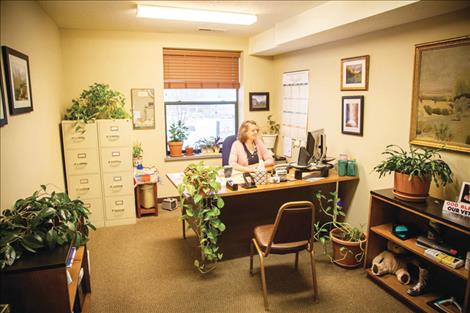 POLSON — The Area VI Agency on Aging has expanded their service area, now offering assistance to seniors and the disabled on a broader scale.
A separate entity from the Lake County Council on Aging, the agency is a private nonprofit responsible for planning, coordinating, and delivering services in different counties in Montana under the Older Americans Act for anyone elderly, aging, or disabled. Though the primary office for Area VI is based in Polson, the agency now serves Lake, Sanders, Mineral, and Lincoln Counties, the Flathead Reservation, and clients in northern Idaho and eastern Washington as well.
Contracted with several entities in the region including senior centers, veterans' groups, and other organizations on aging, the agency coordinates assistance to seniors throughout the four counties and three states, along with offering some direct services of their own.
"It gives (people) the opportunity to remain in their homes, and that really is our overall goal - to try to provide services to seniors and the disabled," explained Director Lori Thibodeau-Seay. "If we can possibly keep people in our area - and in the area they want to be in - and in their home as long as possible through the aging process by finding ways to provide them services, that's really the overall goal of the agency."
One of the agency's in-house services throughout their service areas is the State Health Insurance Program (SHIP), which provides one-on-one counseling to the elderly and disabled in their hometowns to help them understand Medicare and Medicaid, as well as private and Long-Term Care insurance. A free program, SHIP helps answer important questions such as what government health services one might qualify for, what medical services are offered by Medicare and Medicaid, and what factors in the party's life should be considered when deciding on insurance.
Their options counseling goes beyond insurance as well, meeting with clients and their families to take a more in depth look at what help is needed. Some involve assessments for the caregiver and offer referrals and resources within the caregiver's community. The state provides respite care, for instance, to allow caregivers a small break to see a movie or have dinner, or just take a little time off.
"You're going to have providers who've been doing homecare for years and years, and they need some help," explained Program Coordinator Samantha Walker. "They do struggle with burnout and depression and being very anxious at time, and how to deal with it."
The agency also has a grant with the National Council on Aging (NCOA) which allows them to complete benefit checkups. This means they go through a process of gathering information and helping individuals qualify for extra help, such as Medicare savings, SNAP, and any other state or federal program that could provide additional financial assistance. Thibodeau-Seay explained that a big one coming up is the Elderly Tax Credit, which applies to everyone 62 or older that's been a resident of the state of Montana for at least nine months. These tax credits can be obtained for the last three years, if a client hasn't obtained them already. They can also help with charity applications for medical facilities and prescription assistance for clients.
The Veterans Directive Program has expanded its service area as well. Contracted with Fort Harrison and Spokane, veterans referred to the agency's program by a VA clinic will have the option to participate in the self-directed program that pays for qualified veterans to receive services and support to help them maintain independence. The program has expanded to Pend Oreille and some of eastern Washington now as well.
Outside of the services they offer themselves, the Area VI Agency on Aging helps to connect clients with other helpful services and organizations that can meet their needs. Senior centers, for instance, often have Meals on Wheels and nutrition services available. Some places offer homemaking services that help clients with light housework and chores. The "GETSETUP" program shared on the agency's website offers classes for free for everything from gardening, technology, tai chi, estate planning and more to help keep clients active and socially engaged. The folks behind all these offerings and more, Walker and Thibodeau-Seay stressed, make up a lot of the programs.
"Seniors are very wary about asking for help, a lot are on fixed income, and they don't know what's available out there. We could refer them to energy assistance, to all these other things, getting them in the door for the SHIP program and seeing where they're sitting financially, then the ability to make the referrals to ease what's a big deal," Thibodeau-Seay commented.
"Our goal is quality of life for our beneficiaries, by any means necessary to figure that out for them," Walker added.
The Area VI Agency on Aging operates on a donation basis, meaning they don't do a means test for seniors, but rather ask for contributions where people are able. A fundraiser for the agency is upcoming in February, but the agency will also be putting together Christmas boxes for clients this year, so those interested in contributing towards the holiday gesture or generally supporting the care for the seniors and disabled in the area are welcome to donate online at: westernmontanaagingservices.org.
Those interested in volunteering with the agency can find out more by calling 406-883-7284 or emailing area6aging@a6wm.onmicrosoft.com.