Governor secures $1,350 in property tax rebates for Montanans
Montana homeowners eligible for $675 rebates in both 2023 and 2024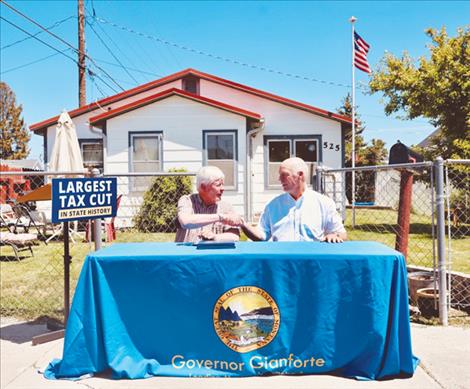 News from the office of Governor Gianforte
HELENA — Joining Representative Tom Welch, R-Dillon, Governor Greg Gianforte this week celebrated a new law which provides Montana homeowners up to $1,350 in property tax rebates over the next two years.
"Property taxes are too high, which is why we prioritized and secured immediate property tax relief for Montanans this legislative session," Gov. Gianforte said. "Now, it's time to build on reforms to reduce the burden of property taxes over the long term."
At a local residence in Dillion, the governor ceremonially signed House Bill 222, carried by Rep. Welch, which provides a property tax rebate of up to $675 in both 2023 and 2024 for Montana homeowners at their primary residence.
Joining the governor for the ceremony, Rep. Welch added, "This bill is the cornerstone of change going forward. We have a lot more work to do, but we've done a great job so far with what we've got going."
In addition to property tax rebates, the governor also emphasized the need for long-term reforms adding, "While our property tax rebate will help these next two years, we must make permanent reforms to provide homeowners with significant, long-term property tax relief."
Last November, the governor proposed $2,000 in property tax rebates for Montana homeowners at their primary residence in his Budget for Montana Families.
Montana homeowners may claim this year's rebate beginning August 15, 2023. The claim must be filed by October 1, 2023.
For more information, visit: getmyrebate.mt.gov.