Articles with the Tag: Lake Mary Ronan
Northern Pike discovered in Lake Mary Ronan
News from Montana Fish, Wildlife and Parks LAKE MARY RONAN — Two northern pike were caught in Lake Mary Ronan on June 26 by an angler from Missoula who was trolling. The first fish was lost at the boat, and the second fish was caught and kept. The angler immediately took the fish to Camp Tuffit wher...
Authorities deal with bears, food-related issues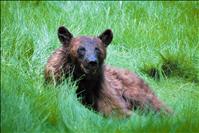 News complied from Montana Fish, Wildlife and Parks and Glacier National Park press releases WESTERN MONTANA — In the past two weeks state and federal authorities have euthanized two bears, investigated the death of three others, and relocated a separate pair as part of conservation effort...