Articles with the Tag: Native American
Local YWAM has cross-cultural, international focus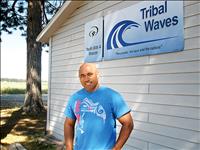 By Caleb M. Soptelean Valley Journal PABLO – In 2005, Sika Ulutoa came to visit northwest Montana with plans to move to Japan. He never made it. Sika, a Samoan who moved to the Mission Valley with his wife, Rita, from her native Ohio, planned to go to Japan for missionary work. ...
Native American flute making a 'labor of love' for Kalispell-area man
POLSON – What began as a hobby quickly turned into a labor of love and a business for David Webb. It all started when Webb, a native of the Black Hills of South Dakota, received three Native American flutes as a gift from a friend in July 2009. He bought a flute in Keystone, South Dakota, the next d...