Murder convict found guilty of sexual assault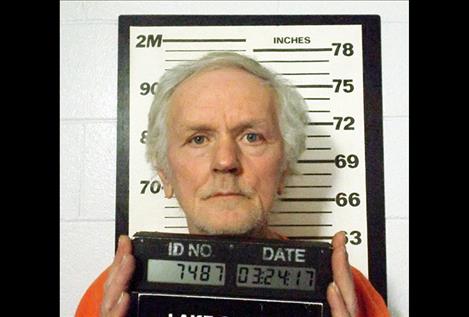 POLSON – A 61-year-old murder convict was convicted of sexual assault at a jury trial last week.
Donald Dean Grant of Arlee was found guilty of one of two sexual assault charges against two girls dating to 2006 or 2007.
The girls were 4 and 7 or 8 at the time of the incident and alleged incident, deputy county attorney Ben Anciaux said. The jury convicted Grant in the case of the older girl and was unable to reach a verdict in the case of the younger one.
Judge James A. Manley set sentencing for Nov. 1.
After the trial, Anciaux said he was going to ask Manley to put Grant away for the rest of his life as he was on parole for murder when the incident(s) took place in 2006 or 2007.
Both girls testified at trial along with a woman and Lake County Sheriff's Office Detective Rick Lenz.
Anciaux said Grant may have been drunk at the time of the incidents but noted that was no defense.
The younger girl told her sister and mother what happened shortly after that alleged incident, Anciaux said, which was corroborated by the woman's testimony. However the incidents weren't reported to law enforcement until earlier this year when the older girl stepped forward.
She testified about an incident that took place either during Thanksgiving or Christmas in 2006 or 2007 when she was sleeping on the living room floor. The girl, who was 7 or 8 at the time, said she woke up during the incident and asked Grant what he was doing. He shushed her and continued to touch her, she said. She testified that she tried to push him away, but he covered her mouth with his hand and told her to be quiet. The sexual assault continued, and she said she couldn't talk or breathe and eventually passed out.
He told her to keep quiet afterwards, she said, and added that she didn't tell anyone because of what he said.
The older girl said she told her mother years later when she saw the sweatpants she had been wearing the night of the incident.
"I talked to my mom about it in the winter of 2012," the girl said.
By that point the girl was 13 and her mother asked if she wanted counseling or to call the police, but the girl said she didn't know. "I don't think she knew what to do," the girl said of her mother.
Her mother died later that year, Anciaux said.
After her mother died, the girl said she started cutting her wrists and legs "because I didn't feel like I was meant to be here." She showed her wrists to the jury.
She said she blamed herself because of what happened to the younger girl. That alleged incident apparently took place later.
The older girl said she was testifying so that no other girls would be harmed by Grant.
Under questioning from defense attorney Britt Cotter, the older girl said she didn't report the incident until six months ago and said there was a chance someone else was in the room when the incident occurred.
Cotter did not cross examine the younger girl during testimony, but Anciaux said that alleged incident happened after Grant took her from her mom's bedroom into the living room.
During a jailhouse interview with Grant, Lenz asked him some 40-plus times if he did something inappropriate which he denied until the end. In the video, which was played to the jury, Grant said the home "was more of a party place" and said he slept over a couple of times and would get drunk and pass out.
"I don't remember doing anything with the girls," he said.
At the end of the interview, Grant said, "It could've happened. Did I wish it to happen? No."
While testifying, Lenz said he took the latter statement as a confession.
Cotter motioned for a mistrial based on some of the things shown in the video, but Manley denied it.
Cotter did not call any witnesses. The jury deliberated a little over two hours.
After the trial, Anciaux noted that the statute of limitations in this case allows for charges to be filed up to 10 years from when it happened or 10 years from when a minor turns 18. (A new state law extends that time period to 20 years for cases after July 1, 2017.)
Grant was convicted of deliberate homicide, attempted deliberate homicide and use of a dangerous weapon during commission of a crime following a shooting incident at a gravel pit south of Arlee in July of 1982.
He was convicted after a trial in December of that year. In that incident, Grant shot and killed Jay Witteman while he was camping in a tent. Another man in the tent, Carl Warbitsky, was uninjured.
According to a court document, the two men were out-of-state motorcyclists who spoke to Grant at a restaurant parking lot about where they could camp. Grant directed them to the gravel pit and later went there in order to kill them and take a motorcycle, a court document states.
Grant was sentenced to 110 years for homicide, 40 years for attempted homicide and 20 years for the weapon offense. He did not serve the full terms.