Arlee Volunteer Fire Department hosts training for traumatic brain injury patients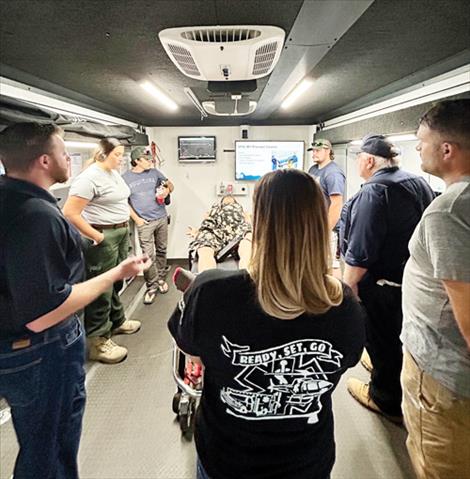 News from the Arlee VFD
ARLEE — On July 25, the Arlee Volunteer Fire Department hosted an EPIC (Excellence in Prehospital Injury Care) training session, welcoming local healthcare professionals Jake and Abby Hastings. The event proved to be a significant step towards enhancing emergency medical services for traumatic brain injury patients, benefiting the entire Missoula County community.
The EPIC training delved deep into the latest protocols and best practices for providing top-notch prehospital care to individuals with traumatic brain injuries. Participants had the unique opportunity to collaborate with experienced professionals, gaining valuable insights and skills to handle critical situations effectively.
Jake Hastings, a prominent healthcare expert with Simulation in Motion Montana, expressed his enthusiasm for the event, stating, "The Arlee Volunteer Fire Department's dedication to elevating emergency medical services is commendable. We are grateful for the chance to work with them on this essential training."
Traumatic brain injuries can have life-altering consequences, making prompt and competent medical attention crucial for better outcomes. With this recent training, the Arlee Volunteer Fire Department has taken a proactive step in ensuring the well-being of residents throughout Missoula County.
This event's impact is far-reaching, as it empowers first responders and healthcare professionals with the knowledge and expertise needed to handle traumatic brain injury cases more efficiently. The benefits of this training will undoubtedly be felt by individuals and families who may find themselves in distressing situations in the future.
The Missoula County community can take pride in the commitment of the Arlee Volunteer Fire Department to elevate the quality of emergency medical services. Their dedication to ongoing training and professional development highlights their sincere concern for the welfare of the residents they serve.
For further inquiries about the EPIC training or the Arlee Volunteer Fire Department's initiatives, please reach out to Jake Hastings at jake@simmt.org or call 325-513-5588.