UM Bio Station highlights impact with marketing intern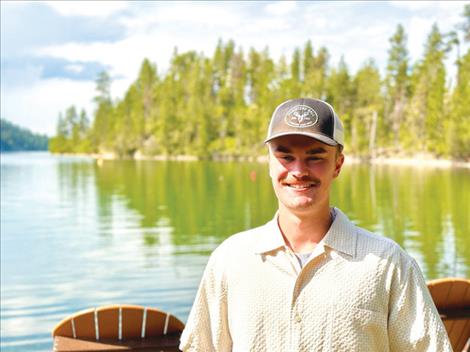 MISSOULA – The University of Montana's Flathead Lake Biological Station is a world-renowned ecological research and education center tucked along the shores of Yellow Bay, where it has operated continuously for 124 years.
To highlight its long history of impactful work and forge new partnerships with the local community, the bio station hired its first-ever marketing intern from UM's College of Business.
Matthew Spahr, a senior from Polson who is completing a double major in marketing and business management, spent eight weeks this summer living and working at the bio station.
"It was the most enriching summer that I've had – not only for my career but for personal growth," Spahr said. "I met so many great people and heard so many great stories. I learned from so many qualified people in other spaces that I never thought I'd rub shoulders with."
Spahr began his internship by connecting with local business leaders and community members in the Flathead Lake area to see how they feel about the bio station and how it can improve engagement and strengthen philanthropic outreach.
"People really love what the station does even if they don't understand all the science," Spahr said.
He worked closely with Tom Bansak, the FLBS associate director, and Ian Withrow, the bio station's marketing and communications manager. They collaborated and brainstormed ways to reach a broad audience about the station's Flathead watershed research, water monitoring programs, K-12 camps and summer courses for college students.
Spahr was tasked with creating an extensive marketing and development analysis and planning report during his internship. The report provided significant insight, recommendations, analyses and best practices for the bio station to use as guidelines for its future marketing efforts. The report also was created as a living document so future interns or FLBS personnel can adjust outlooks and goals in the years ahead.
"The value of Matthew's work as our marketing intern can't be overstated," Withrow said. "His marketing and development report will allow us to fast-track the introductory period of future interns, and he has given us a strong foundation to build a more efficient, intentional and productive marketing plan at FLBS."
In addition to the professional marketing work, Spahr enjoyed his free time at the lake. He stayed in a lodge with other interns studying biology, environmental law and journalism among other specialties.
Spahr went backpacking for the first time with some of the interns, fly fished from the front of a canoe, swam, kayaked and played volleyball.
"It wasn't your average internship where you work in an office and clock in and clock out," Spahr said. "You are living on a campus for eight weeks and you learn about everyone's projects and hear about all the unique perspectives."
The experience solidified Spahr's interest in marketing as a career. It motivated him to keep pursuing opportunities during his final year at UM. He is a member of the American Marketing Association student club as well as the UM Forestry Club and Foresters' Ball committee, where he will be the treasurer's assistant for this year's ball.
Spahr encourages other students to consider the bio station internship. The internship is paid and funded entirely through philanthropic support. It is open to students studying marketing in UM's College of Business.
For marketing students who are not necessarily interested in science, Spahr said, don't be intimidated by the word "biological" in the station's title.
"Don't be afraid to step out of your comfort zone because you don't know how it's going to connect the dots later," he said.
Spahr jokingly said his only complaint with the internship was that it didn't continue through the fall semester. He would have liked more time to build on his work. But he is excited to see how the internship grows with future students.
"No matter where I go career wise, I know this experience will stay with me and I will always look back on it fondly," he said. "It's still hard to step away. It has that kind of impact."